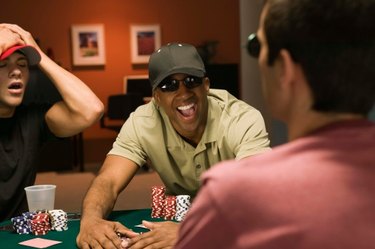 The 45th year is a milestone for many men. It is the age when they admit that they are middle-aged and they realize that the half-century mark is merely five years away. Most men embrace this time in their lives because they have reached a level of maturity and stability that makes them and their families proud. Some men choose to spend their 45th birthday with their families, but others would prefer activities that allow them to spend time with their best male friends.
Casino Party
Casinos allow men to relax and unwind in a causal setting. At a casino party, men can eat dinner, have a few drinks, socialize and even gamble. If your budget allows, plan the casino party in Las Vegas. The party can occur in a hotel suite or in one of the casino lounges followed by a night of game playing. Overnight casino cruises are an option as well. Many overnight ship cruises have live shows, food and dancing. If you have a limited budget, grab a few cases of beer and some snacks and invite the guys over for a night of poker or blackjack.
Gentlemen's Club
Many men choose to celebrate their birthdays at a gentlemen's club. Gentlemen's clubs allow men to socialize with one another while exotic dancers entertain them. For a 45th birthday party, it is best to choose an upscale location that attracts a mature crowd. Affluent gentlemen's clubs have VIP sections and offer birthday packages, group discounts and complementary transportation to and from hotels in the area.
Sports Party
If there is a big game or fight coming on during the week of the 45th birthday, throw a sports party. Invite male friends and sports lovers over for an evening of sports and snacks. Chicken wings, cold cut sandwiches, crackers, chips and dip will suffice for food. Also, have a selection of alcoholic and non-alcoholic beverages. Before the game begins, bring out the birthday cake and have everyone sing happy birthday.
Outdoor Barbecue
Invite family and friends over for an afternoon birthday barbecue. Prepare all of the birthday boy's favorite barbecued dishes and sides. If there is a pool available, tell guests to bring their swimsuits and towels. Guests can also play board games, cards or they can simply sit back and relax. You can serve cake at any point during the barbecue. Barbecues provide a casual, fun atmosphere that his friends and family can enjoy.