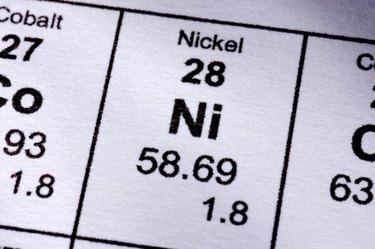 When redecorating a room, you have huge number of options regarding the finish of any metalwork. Nickel is commonly used in the house for a range of applications, but, along with the standard version of the metal, there are variations, including satin and brushed nickel.
Satin Nickel
Satin nickel is not a metal in itself, but refers to the nickel plating put on brass. It is applied to the brass through electrolysis and is then treated with a lacquer to dull the nickel's usually shiny surface.
Brushed Nickel
Brushed nickel follows the same principles as any other brushed metal, such as aluminium. Once the nickel has been forged into the required shape, it is brushed with wire so there are small abrasions on the metal, all going in the same direction. This takes some of the natural shine off the metal, but not all.
Properties
Neither of these nickels have any special properties after being treated. The only difference between satin and brushed and pure nickel is that the treatment takes away the lustre of the metal.
Applications
Both of these nickels are used in the same applications and are chosen purely on aesthetic appeal. Normal applications include light switch surrounds, door fixtures and faucets.