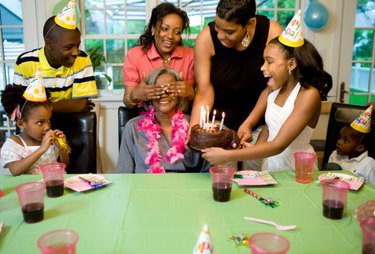 Many people celebrate their birthdays by going out to a restaurant with close friends and family. You have many options of making a birthday party at a restaurant fun and memorable without breaking the bank. Most restaurants' staff are accustomed to birthday celebrations and will work with you to make it an enjoyable night for everyone.
Karaoke
Your local restaurant may host a weekly or monthly karaoke night. Your group of friends can karaoke the Happy Birthday song, as well as other hits. Host your own version of "American Idol," and give a prize to the group's favorite singer.
Trivia
While waiting for your entrées, or after dessert, play a round of trivia with questions based on the birthday guest of honor. Have all the party guests write down their answers; the person with the most correct answers wins the game.
Wine Tasting
Host your own private wine tasting party at your table with an assortment of wines offered by the restaurant. Hand out small notebooks so guests can make notes on their favorites.
Surprise
Some restaurants have large-party dining rooms hidden from the main dining area. Call a group of friends, and throw a surprise birthday party. The birthday guest will not only be shocked but will be flattered that you went through so much work to plan the event and keep it a secret.
Theme
Throw a themed dinner party at your favorite restaurant. The hundreds of possible themes include 1980s, wear a wig, pirate or Mexican themes. Contact the restaurant to ensure the staff will allow you to bring centerpieces, decorations and props for your themed party.