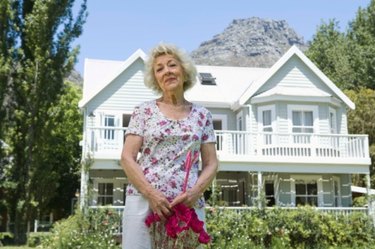 A rich, gooey birthday cake, lots of balloons and an endless array of party games are birthday must-haves for the young, but planning a party for older adults means a list of entirely different requirements. While out-of-control exuberance is fine for the kids, most grownups prefer something more laid back and sedate. When it comes to parties for older adults, consider a quiet, tasteful celebration instead.
Party Decor
When it comes to decor for the adult birthday, think stately rather than garish. Dignity comes with age. Leave the bright colors and helium-filled balloons for the kiddies. Decorate your home for an adult party with vases of cut flowers, arrangements of lit candles strategically placed and a small- or medium-sized ice sculpture. Think cloth napkins rather than disposable ones, fine china instead of paper plates, twinkle lights rather than paper streamers and deep, rich colors in place of fluorescent hues.
Party Cuisine
By the same token, cuisine for an adult party should take a different tone than food for the younger set. Tastes often change as we age, so forget about the hot dogs, delivery pizza and hamburgers on the grill and go for something more upscale. Grilling out is fine, but choose steaks, pork chops and chicken. Consider setting up several fondue stations as an option to appeal to a wide variety of tastes. Serve wine, cheese and an array of gourmet hors d'oeuvres. Swap out your usual fruit drinks and sodas and replace them with a sparkling champagne punch instead.
Birthday Desserts
Anyone can pick up a frosted cake at the local grocery store or bakery and stick a candle in it. No doubt the older adult has had plenty of those types of cakes in his lifetime, so how about doing something different. Strawberry shortcake with vanilla ice cream and whipped cream, a chocolate torte, caramel nut cheesecake and fruit dipped in dark chocolate are all possibilities. Wow your guest of honor with a tiramisu torte or a homemade carrot cake with cream cheese icing.
Types of Parties
Forget the silly surprise party -- the last thing a lot of older adults want is 50 people jumping out from behind furniture screaming well wishes at them. Opt for something genteel and leisurely and keep your guest list small. Dinner out at a fine dining restaurant, a quiet dinner party at a close friend's house, lunch aboard a yacht, a champagne brunch or a get-together at the club are all possibilities. By now, the birthday girl who's getting on a bit has learned to appreciate the finer things in life and will appreciate the extra effort you put into her party.