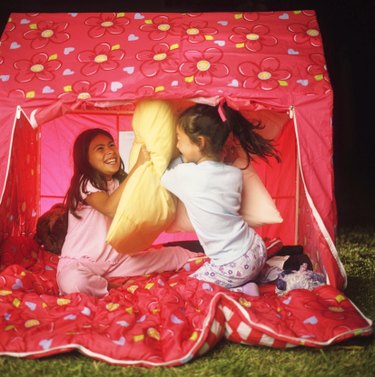 Pajama parties for little ones are different than those for older children. Older children and teenagers will generally make up their own activities or just stay up all night talking. However, a sleepover for a 4-year-old requires parental supervision as well as development of and involvement in the activities.
Activities
Try some simple crafts that all of the 4-year-olds can participate in. Give each child a pillowcase, and place some permanent markers on the table. Allow them to write their names or draw pictures on the pillowcases. Another simple activity is to provide a box of dress-up clothes, with enough items for everyone, and each child can take turns walking down a pretend fashion runway.
Games
Freeze dance is a popular game that four-year-olds can readily grasp. Play their favorite tunes to get them involved. You can set up a mock scavenger hunt in the house or in the backyard, as long as there will be proper supervision. Have them look for a certain number of candies or other small prizes, such as pieces of lgirls' costume jewelry or containers of bubbles.
Food
You'll be serving both dinner and breakfast the next morning at a pajama sleepover. Because children are often too young at this age to know about their food restrictions, ask parents about any allergies or foods their child is not permitted to eat. Let the children be involved in safe parts of the food preparation, such as stirring the pancake batter or pouring a cup of juice for everyone. Have some treats available for midnight snack -- if they can stay up that late!
Themes
Consider incorporating your child's favorite sport, cartoon character or color into a theme for the sleepover party. The possibilities are endless, but make sure the theme is age-appropriate. For example, you would not want to have a scary, haunted theme for this age group. Some possible theme ideas include dance, soccer, arts and crafts, beach, spa or a television show. Plan games and activities, and create invitations that tie in with the theme.