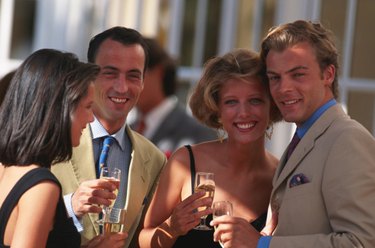 Planning a class reunion can be a daunting task, especially if you haven't stayed in touch with your classmates over the years. You want to make sure you plan an event that satisfies your peers and eases any nervousness that people might have. Creating a class reunion questionnaire before the event helps you gauge the interests of your classmates. A multifunctional questionnaire can provide you with plenty of information for your reunion.
Biographical Questions
Your class reunion questionnaire should first collect biographical information from your former classmates. These questions allow you to have current contact information for every classmate, which can make reunion planning easier. Ask for students' full names, including maiden names for women, as well as their current address. Ask students for their occupation, children's names and ages and spouse's name as well. These questions will give you a better sense of your classmates today, not the ones you knew years ago.
General Reunion Questions
In this section of your questionnaire, collect information from your former classmates about what they want their reunion to be like. If you do not have a date finalized, provide a list of dates that you are considering to gauge availability. Ask your classmates if they prefer a kid-friendly or adults-only reunion--or perhaps a weekend full of events that accommodates both groups.
Reunion Logistics Questions
If you and the reunion committee have brainstormed potential events for your reunion, use the questionnaire to see what your classmates think. Create a list of events, such as a formal dinner, cocktail party, family picnic and high school football game, and ask your classmates to rank them in the order that they would attend these events. Also, create a multiple-choice question asking your classmates how much they are willing to spend on the reunion. Responses to these questions can make your planning much easier.
High-School-Themed Questions
The final section of your class reunion questionnaire asks your classmates to look back on their high school years. Questions like "What was your favorite high school song?", "How many miles will you travel for the reunion?" and "What is your best high school memory?" can help guide your reunion planning. You can make sure the DJ plays the songs that students remember, acknowledge the classmate who traveled the farthest and display favorite memories on a poster board at the event.