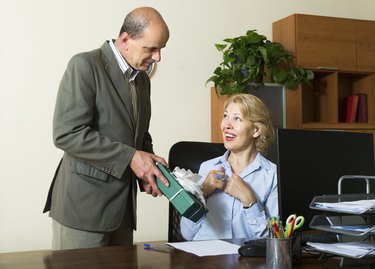 Finding out that your boss is celebrating a birthday isn't an invitation to bombard her office with confetti and celebratory beers. Some bosses might not want more than your happy wishes, while others won't want much of a fuss to be made. Check with your boss' assistant or trusted friends at work to determine the type of approach to take. Then, you can decide whether to keep the festivities subtle or go all out with a surprise party.
Low-Key Ideas
If your boss prefers low-key events, skip the temptation to have a large party in the conference room and, instead, ask your boss if you can treat her to her lunch. Whether you visit a sushi spot around the corner or just grab a couple submarine sandwiches to eat in the lunch room, your gesture can show that you value the boss' feelings but still respect the professionalism of the workplace. If several employees have the same intentions, suggest going to lunch as a group and splitting the tab. Pick a restaurant such as a teppanyaki house or go for all-you-can-eat wings at a sports bar.
Large Parties
For the boss who enjoys large parties and the workplace that allows for it, converting a board room or lunch room to a party room for the lunch hour or toward the end of the day is ideal. Brighten the room with conventional party decorations, such as balloons, and ask a few members of the workplace to contribute food or snacks for a potluck spread. Simple office supplies can serve as decorations; for example, cut out the letters to "happy birthday" and your boss' name from colorful sticky notes, and arrange them on the wall. Boost the party's fun factor by temporarily mounting a dart board on the wall and having an impromptu tournament.
Surprise Party
In several instances, a surprise party can catch your boss off guard. As with any surprise party, don't let on that you know it's your boss' birthday. Arrange a party with a few trusted colleagues -- ideas include celebrating during lunch in a board room, visiting a restaurant at lunch or having a few drinks after work. In each case, have one member of your party-planning group lead the boss into the party area, at which point the group can collectively surprise him. An off-site surprise party, in which you take your boss to meet up with colleagues at a mini-golf course, a rock-climbing center or a go-kart track is ideal for close-knit work groups.
Other Ideas
Your boss' personality can help you dictate exactly the type of party you throw. If your boss enjoys getting out of the office on occasion, booking a round of golf and some post-game drinks at a nearby golf club with a few colleagues is ideal. For the boss who favors a few cold beverages, grabbing a spot at a local restaurant's patio on a Friday afternoon helps you toast the occasion.