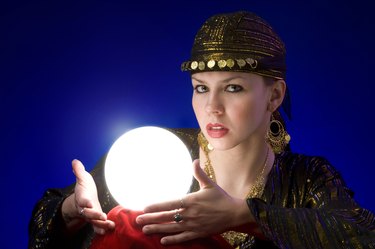 Make your next celebration a feast for the senses -- including your mystical sixth sense -- by throwing a fortune teller-theme party. With crystal balls, tarot card decor, fortune-themed snacks and magical party games at the party, you don't have to be a clairvoyant to clearly see fun in your future.
Invitations and Attire
Give your party invitations a psychic touch by using an image of a crystal ball or a fortune teller, along with the phrase, "I predict a party in your future!" Or, print a photo of a tarot card on thick card stock; then list the party details on the other side of the card. Use The Emperor card for a boy's party, The Empress card for a girl's party, or make your own custom card using photo manipulation software. Tell party guests to dress in their best gypsy fortune teller costumes, with flowing skirts and shirts, scarves, headbands, shawls and costume jewelry.
Party Decor
Make your party space look like a psychic's den with beaded curtains over doorways, dripping candles on the tables and flame-retardant scarves over lampshades. Use a store-bought crystal ball as a centerpiece, or make your own by setting a globe-shaped ceiling fan light cover over a small LED-powered candle. String tarot cards together to make garland, and decorate tables with magic 8 balls, Ouija boards and books on fortune telling and psychic phenomena from the local library. Use dark purple fabric for table covers, accented with shimmery scarves, and set your table with mismatched vintage china.
Food and Drink
Set out glass bowls full of fortune cookies, chocolate coins covered in gold foil and rock candy that looks like colorful crystals. Make star- and moon-shaped cookies with a cookie cutter, and decorate round cookies to look like magic 8 balls with black icing and a white number 8. Top red velvet cupcakes with eyes made of edible icing, or create a large rectangular cake with a tarot card made of icing on the top. For beverages, make a fizzy potion with ginger ale, blackberry soda and lemonade and serve the punch in silver or crystal goblets with star-shaped ice cubes.
Activities and Games
Print a large vintage photo of a fortune teller to hang on the wall; then play "pin the spectacles on the psychic" with pairs of glasses made with construction paper. Give the winner a magic 8 ball or a pack of tarot cards as a prize. Next, test your guest's own psychic abilities with a guessing game. Have everyone write a secret fact about themselves on a piece of paper; then let the party-goers guess whom the secrets belong to. For every correct guess, give out a faux gold coin. Finally, print out tarot card instructions and let guests take turns giving each other tarot card readings.