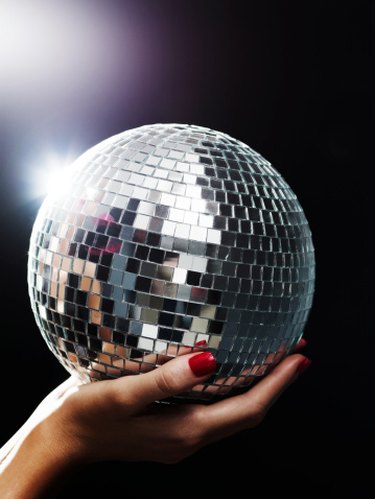 The 1970s ushered in the era of disco. Wild polyseter clothing, strobe lights and mirrored disco balls all collided on the dance floor. Create some disco theme crafts for kids just for fun or as decor for a disco-themed party.
Mirrored Disco Ball Craft
No disco dance floor is complete without a revolving, mirrored disco ball spinning overhead. Create a mirrored disco ball craft with simple craft materials. Cover a beach ball with reflective stickers that can be obtained at a craft store. For a smaller disco ball, use a Styrofoam ball and cover it with small squares cut out of aluminum foil. Make a disco ball pinata by creating a paper mache ball, painting it black and sticking squares of silver reflective wrapping paper to it.
Polyester Fabric Craft
Polyester fabric was all the trend during the height of the disco sensation of the 1970s. Hunt for polyester fabric clothing items at thrift stores and garage sales. Cut a paper grocery bag into a vest shape by cutting a circular neck opening on the bottom of the bag and cutting a line from the collar to the other end of the bag. Create fringe on the bottom half of the vest, as seen in disco fashions of the 1970s. Cut patches from various polyester clothing items, and glue them to the vest. When finished, the vest will be a patchwork of polyester clothing on top and fringes on the bottom, which will be the perfect fashions for the disco floor.
Disco Decor
Disco-inspired decor items can be good kid crafting items. Beaded curtains often appeared in discos and in homes during the 1970s. Create your own beaded curtain by cutting a dowel to the size of a door or opening. Use cafe hooks to hang the rod. Kids will love to put colorful beads on strings as tall as the door. Use colorful patterns to create a curtain. Create large yellow smiley faces, also reminiscent of the decor of the 1970s, by simply cutting large circles out of construction paper and putting smiley faces on them.
More Disco-Inspired Crafts
Discos often featured lava lamps. Help children make their own lava lamp craft. Fill a glass jar with water colored with food coloring. Add vegetable oil and wait until the water and oil layers settle. Shake salt into the jar. The oil and salt should gather together and sink to the bottom. When the salt dissolves, the oil should float back to the top of the jar. Create an 1970s Afro style wig by gluing brown layers of brown curling ribbon onto a brown stocking cap for some disco dress-up.