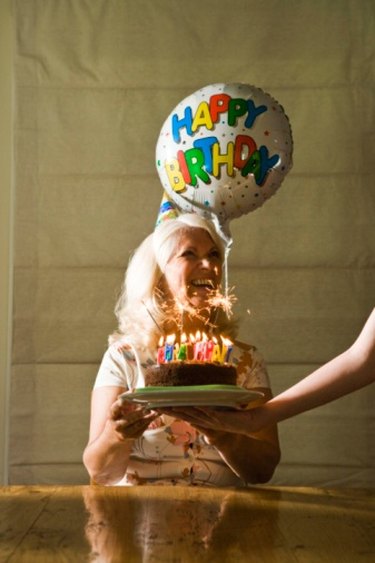 While some people prefer not to do much for their birthday, many like to spend the day with family and friends, celebrating another year of memories and milestones. The number of fun places you can have a birthday party are endless and range from low-key to over-the-top and extravagant. When choosing the place to celebrate a birthday, consider the age of the guest-of-honor, the types of activities he prefers to do and how much money you have to spend.
Kids
Very young children, toddlers and infants generally like any place where they are free to run around, make as much noise as they want and explore their surroundings. Parks, children's museums and play and learn centers, such as The Little Gym and Gymboree, are ideal places for the younger set to have a fun birthday. As kids get older, their tastes get more specific, and it's important to ensure they have a say when it comes to where they have their birthday celebration. Some fun places for older kids to have a party include amusement and water parks, ice skating rinks, the zoo, a backyard with a pool or playscape, and restaurants with large play areas, such as Chuck E. Cheese.
Teens
Teenagers usually want to have parties where their parents can be involved as little as possible. Your home can serve as a fun party place, depending on the activities you plan. For teen girls, a home sleepover can prove to be a big hit, and boys will enjoy being amongst a few friends, munching snacks and playing video games to celebrate their birthday. If you want to have a party outside of the house, try the beach, a laser tag center, games complex, recreation center, bowling alley or movie theater.
Women
All women are different, so the ideal place for a lady to celebrate her birthday will truly depend on her personality and likes. Some ideas that work well for most women include the spa or salon, where you can book manis and pedis for just about any size group, a wine bar, vineyard, if you're fortunate enough to live close to one, her favorite restaurant, an upscale lounge or dinner theater.
Men
Many men don't care whether a large fuss is made over their birthday, so any place that is nice, relaxing, and low-key will satisfy most guys. Comedy clubs, restaurants, lounges or well-stocked, quality bars are suitable options. As with any adult, consider his tastes before making any plans. If the man you're planning a birthday party for is a bit flashier or if he likes to be amongst a crowd, you can take him to a dance club, casino or strip club to celebrate his birthday.