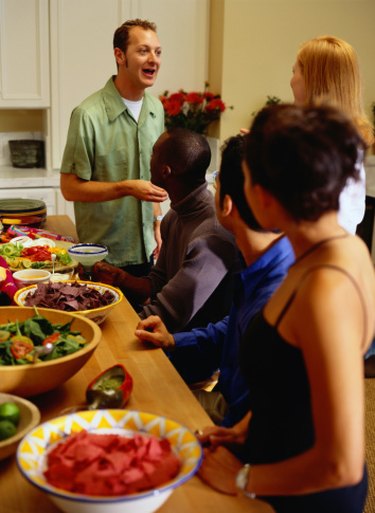 Your new home is reason to celebrate, so why not throw a housewarming party? Your gathering will give family and old friends a chance to visit your new home. You may also use this event as an opportunity to mingle with new neighbors. If you do invite a lot of people, consider hosting an open house where guests can drop in at anytime during the hours you designate. Whether you host an open house or traditional style housewarming party, be prepared to give whole house tours and provide refreshments.
Housewarming Party Invitations
Cut the shape of a welcome mat out of colored card stock. Use markers and stencils to write the word "Welcome" in a decorative style. Draw or use more stencils to add design elements, such as flowers, decorative symbols or scrollwork. Turn the card stock over and draw a line down the center. Write the party details in the left column and the address information in the right column, Place required postage in the upper right hand corner and mail these invitations postcard style.
Housewarming Party Food
Serve a buffet of finger foods that guests can enjoy at their own convenience, between mingling and touring the home. Use a gingerbread house shaped cookie cutter to create house shaped sandwiches and quesadillas (with a variety of fillings), brownies and cookies. Use colored frosting, gel icing and candy embellishments to recreate the design of your welcome mat invitations on the top of a sheet cake. Add these home-themed items to your buffet display.
Door Prize Contest
Send guests on a hunt to win door prizes. Write the word "winner" on one index card for each prize you have to give. Write the word "sorry" on several other index cards. Place the cards in matching, colored envelopes. Hide them around the rooms guests will tour at the party. "Hide" them in plain sight to keep guests from having to search too hard; tape them to pictures, place them peeking out from under pillows or tuck them into flower bouquets. Inform players that while they are touring the home, they should look for these colored envelopes. The players who pull winning cards get door prizes.
Housewarming Party Favors
Something you made in the kitchen of your new home makes a lovely gesture of thanks. Wrap some of the house-shaped cookies or brownies in cellophane and tie it with colored ribbon. Attach a tag that reads "Guests like you make my new home warm. Thank you."
These ribbon tags can also be added to homemade bread, gourmet coffee packages, miniature bottles of wine and boxes of chocolate.