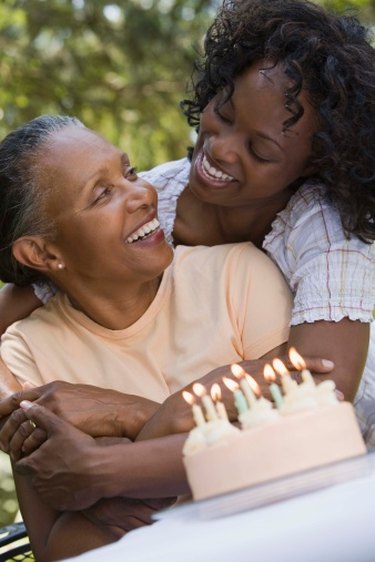 Birthdays are a momentous occasion, even more so as you grow older. Reaching 70 years old is an accomplishment and looks different than in the past. People are staying active longer and even staying employed into their older years, according to AARP. By the time someone reaches 70 years old, he has a lot of history to draw upon for the makings of a great party. Keep in mind the personality of your guest of honor and choose an idea that suits him.
This Is Your Life
Perhaps no theme is more appropriate for your 70-year-old loved one than a "This Is Your Life" party. You can make this theme as simple or as elaborate as you desire. Start with charting a time line of events in the life of your 70-year-old friend and contact people from key events of her life. You can make this party a surprise if you think your guest would enjoy not knowing what to expect ahead of time.
Roast
For the gregarious and fun-loving 70-year-old with a sense of humor, organize a roast in his honor. Select an entertaining host and contact friends and family of your guest who can share fun stories with everyone. Prepare your birthday friend ahead of time what to expect, as roasts are typically about giving the guest a hard time, and you'll want to make sure he has some comebacks of his own.
Birth Year Theme
Design a party around the year of your birthday gal's birth year. Research what events took place that year and how much everyday items cost. Host this party at someone's home and place price tags on items around the house, reflecting what similar items cost the year they were born. Play music at the party, and perhaps run a movie in the background, that came out during that year.
Recreate a Memory
Talk to your 70-year-old loved one about what events he fondly remembers in his life. Was it getting married or asking a special girl to a dance? Perhaps it was landing his first job or growing up with his brothers. Take the ideas he gives you and re-create this moment in his life. If he recalls playing a certain game with his brothers, play this game at the party. If a special high school dance comes to mind, play music from that time and decorate with simple prom-like decorations. Maybe you can even locate his long-lost love as a surprise guest.