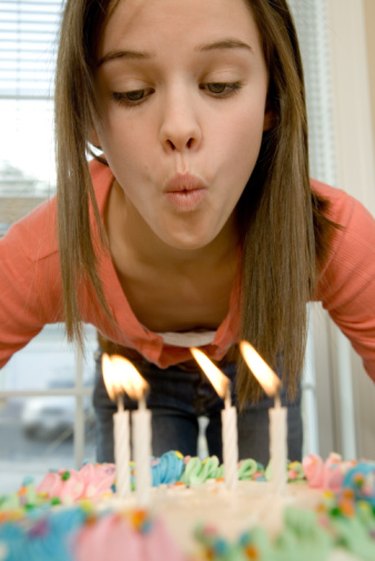 Planning the perfect event to celebrate turning 17 years of age can be a challenge. Although not exactly a child, a 17-year-old is certainly not an adult yet. However, with a little creativity it is possible to arrange a sweet 17 that your son or daughter will remember for many years to come. From a pamper party to mini-prom there are a range of options to suit even the most hard to please teen.
Pamper Party
For teenage girls who love to indulge in a little pampering, a spa-themed slumber party is the way to go. Create party packs for each girl containing a face mask, nail varnish and lip gloss. The girls can spend the night pampering themselves and experimenting with new makeup looks and hairstyle ideas. Make some healthy snacks and provide a selection of age-appropriate movies. A pamper party is informal way for her to relax and celebrate with her best friends on her birthday.
Camp Out
For teens that prefer a little more adventure, arrange a campout. From camping in a national park to your own backyard garden, the opportunity to spend some time outdoors with friends is an exciting one. Plan a group scavenger hunt in the evening for a spooky feel, or toast marshmallows and play a quiz around the campfire. Most 17-year-olds crave independence, so arrange the campout for the garden to give your teen the space he needs without being too far from an adult should he need one.
Mini Prom
Arrange a mini-prom for teens who would like the opportunity to dress up and celebrate formally with friends and family. A mini-prom could take place at home or a hired venue such as a private bar. Include all the elements that would be featured at a real prom, such as selecting a theme and crowning a prom king and queen. Send out formal invites and ask your guests to dress accordingly.
Pool Party
If your teen is celebrating her birthday during the summer vacation, a pool party is a relaxed way to honor the occasion. Music, sun, barbecue and a pool are all the ingredients required for a successful summer sweet 17th birthday. Friends and family alike will enjoy an outdoor party with a laid-back, carefree appeal. Give the party a luau theme and match the food, drinks and party games accordingly.