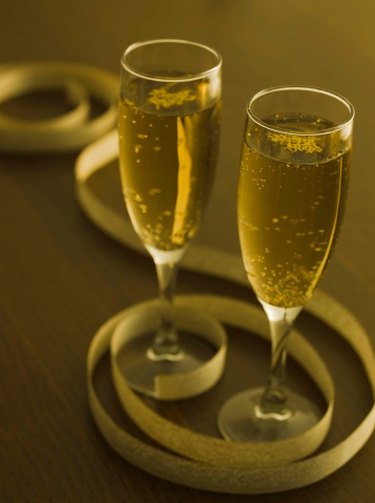 Turning 50 is a milestone in a person's life, as they have gained years of wisdom, confidence and self-assurance not present in their earlier years. As such, celebrating a 50th birthday is an exciting time, which calls for a party. When choosing decorations for a 50th birthday party, use gold along with bold colors like red and purple.
Gold
Fifty is often referred to as the "golden age." As such, use gold as the primary color to decorate your birthday bash. Use golden champagne glasses, plates and silverware for meals and snacks. You can also use gold tablecloths and banners to ensure that the golden theme is present throughout the party venue. Consider placing candies wrapped in golden wrappers at each table setting as well.
Silver
Use silver as a complementary color to the golden theme of your party. You may use silver to outline golden letters or as wording against a golden background, for example. If serving a cake, consider one decorated in silver as a nice touch to your decorations. Additionally, silver is a suitable color to wear to a 50th birthday party, as it is elegant and classy.
Red
Decorate your venue with shades of deep red for a bold addition to your decorations. Use deep red flowers, like roses or lilies throughout or as centerpieces. You may also use a red carpet for a Hollywood-themed 50th birthday celebration. Red also makes for brilliantly colored trim that decorators can place around the party venue for added pop and fun. Since red is a sensual color, consider using it for an evening party to add to the ambiance.
Purple
Use purple as a fun yet sophisticated color to decorate a 50th birthday party. Choose shades of deep purple, which you can combine with lighter shades for a unique decoration. When using purple as a theme, you may use purple baked goods, flowers and decorations to emphasize the theme. Also, consider distributing purple party hats or glasses for additional fun with the color. Lastly, place faux purple jewels along tables for a sparkly addition to a 50th birthday party.