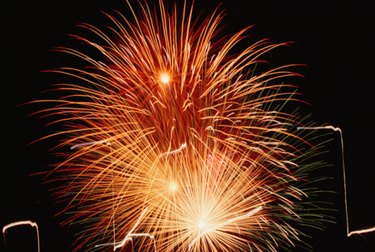 Whether you're interested in providing a fireworks show for party guests or looking to put the spark back into outdoor entertainment, it's important to know the guidelines and laws regarding the safe use of fireworks. Different types of fireworks are approved for different uses and settings; under the Federal Hazardous Substances Act, the federal government prohibits the sale of the most dangerous types of fireworks to consumers. Fireworks that are approved for consumer use are called "consumer fireworks," and were formerly known as Class C fireworks, according to the U.S. Consumer Product Safety Commission.
Fireworks Approved for Consumer Use
According to the U.S. Consumer Product Safety Commission, Consumer Fireworks include "shells and mortars, multiple tube devices, Roman candles, rockets, sparklers, firecrackers with no more than 50 milligrams of powder, and novelty items such as snakes, airplanes, ground spinners, helicopters, fountains, and party poppers."
Fireworks Banned from Consumer Use
The federal government bans the most dangerous types of fireworks from consumer use; this ban includes large reloadable mortar shells, cherry bombs, aerial bombs, M-80 salutes and larger firecrackers containing more than two grains of powder, as well as mail-order kits designed to build these fireworks.
Other Consumer Regulations
In 1976, the U.S. Consumer Product Safety Commission lowered the permissible charge in firecrackers to no more than 50 milligrams of powder. The commission devised an additional requirement that fuses burn at least 3 seconds, but no longer than 9 seconds. Also, all fireworks must carry a warning label describing necessary safety precautions and instructions for safe use.
State Regulations
Different states allow or ban different types of consumer fireworks. Puerto Rico, the District of Columbia, and 39 other states allow the sale of some or all types of consumer fireworks; these are Alabama, Alaska, Arkansas, California, Colorado, Connecticut, Florida, Georgia, Hawaii, Idaho, Indiana, Kansas, Kentucky, Louisiana, Maryland, Michigan, Minnesota, Mississippi, Missouri, Montana, Nebraska, New Hampshire, New Mexico, Nevada, North Carolina, North Dakota, Oklahoma, Oregon, Pennsylvania, South Carolina, South Dakota, Tennessee, Texas, Utah, Virginia, Washington, West Virginia, Wisconsin and Wyoming. Illinois, Iowa, Maine, Ohio and Vermont allow only sparklers or other novelties, and Arizona allows only novelty fireworks. Five states ban all consumer fireworks: Delaware, Massachusetts, New Jersey, New York and Rhode Island.