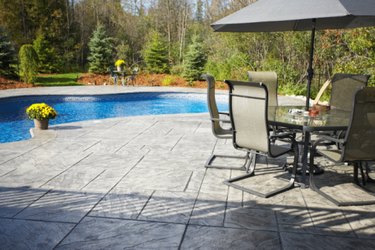 Many homeowners use concrete as a surfacing material for driveways, walkways, patios, floors and other applications because of its durability, but its drab, gray appearance is a turn-off for many people. Stamped concrete is an attractive alternative to plain concrete because it features a decorative pattern and color scheme that can spice up any home or landscape. However, there are also issues with stamped concrete that may not make it the ideal surfacing material for your home. If you are considering a stamped concrete project for your home, consider both the pros and cons of the material to determine if it is a good match for your needs.
Pro: Cost
Stamped concrete is one of the least inexpensive paving materials for patios, walkways, driveways and pool decks. Installation is usually easy as well, so labor costs are usually kept low. As a result, many homeowners on a budget opt for stamped concrete over slate, flagstone, brick or pavers because it can be used to mimic the look of these materials at a lower price point.
Pro: Design Variety
Stamped concrete provides a wide range of design options for homeowners. Many different patterns can be stamped into the concrete so it may be made to look like slate, seamless stone, flagstone, brick, cobblestone and limestone. In addition, stamped concrete is available in a wide selection of colors, including tan, brown, gray, pink, red, beige and gray. In many cases, two colors are used in stamped concrete installation. A base color is combined with the concrete to color it throughout, while a second color known as a release agent is applied to the surface of the concrete just prior to stamping. Using two colors can give the stamped concrete a natural, antiqued look that many homeowners find attractive.
Pro: Low Maintenance
As long as it is properly sealed following installation, stamped concrete is a durable, low-maintenance surfacing material. A sealant helps protect the concrete from harsh weather and prolonged exposure to sunlight. It can be hosed off when it requires cleaning so no special equipment is required. Beyond basic cleaning, the only other maintenance procedure that must be followed with stamped concrete is applying a fresh coat of sealant every few years to restore the surface's luster and lessen signs of fading.
Con: Prone to Cracks
Because it is a concrete surface, stamped concrete is prone to cracks. In most cases, cracks will occur along joints and may easily be repaired. However, cracks may also occur outside the joints. These types of cracks are extremely difficult to repair, and in many instances, efforts to repair the damage only emphasize the cracks.
Con: Difficult to Match
It is extremely difficult to match two different batches of stamped concrete exactly, so if a project requires more than one load of concrete, there may be a noticeable difference between the various sections of the surface. You may face a similar problem when adding on to or changing the shape of a stamped concrete surface because there may be an obvious line of demarcation between the changed area or addition and the original stamped concrete surface.