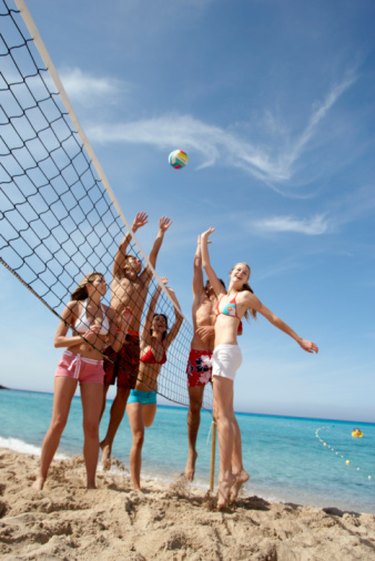 At 18 years of age, a teenager has almost reached adulthood. Many of the theme parties that are appropriate for younger teens seem too childish. It is therefore important that an 18-year-old's birthday party be a fairly grown-up affair and there should be little or no adult supervision. Keeping these factors in mind, finding a suitable venue for the party is sometimes a challenge. There are, however, some places to throw a birthday party that older teens are likely to appreciate. With the right venue, the party will be a success.
Beach Party
For teens, there is nothing like a classic beach party. As long as the weather permits, arrange for a trip to the beach. Serve typical barbecue fare, such as grilled hot dogs or hamburgers. The teens can swim and play various sports, it will not cost much and cleaning up will be a breeze. If you choose this option, remember to take a volleyball and net, Frisbees and any other sporting equipment that will occupy the party goers, as well as a source to play music.
Amusement Park
Most 18-year-olds enjoy a day at an amusement park. If you hold the birthday party at a local amusement park, you should be able to leave the teens safely unsupervised. They can meet at the entrance to the park at a designated time. Make sure that everyone has tickets and then leave for a set number of hours. After spending time at the amusement park, the teenagers can either go to your home or to a nearby restaurant for something to eat and some birthday cake.
Sports Event
Another good venue for an 18-year-old's birthday party is a sports event. Whether it is basketball, hockey, football or another sport, you can purchase tickets for the guests to enjoy the game. After the game is over, stop at a nearby restaurant for birthday cake and pizza. This is another party that can be unsupervised. As long as the teens enjoy the particular sport involved, it is sure to be a success.
Scavenger Hunt at the Mall
This party takes place at a local mall. It requires at least two groups of party goers, although there can be more. Each group should have from two to four people. You must have a video or DVD recorder for each group. The groups are provided with a list of things they must "capture" at the mall. They capture them by taking videos of the things on the itemized lists. You can be as imaginative as you like when making the lists; some examples could include capturing someone wearing crazy socks, party guests trying on outrageous outfits or persuading a stranger to jump up and down. The first group to capture everything on the list gets a prize, then everyone can go to one of the restaurants at the mall for food and birthday cake.