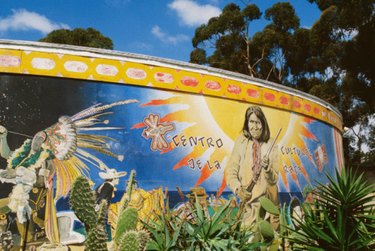 As art pieces, murals can make a bold statement, portray a beautiful scene, pay homage to a historical event or era and even add a splash of color to a child's room. While there is no shortage of images to capture in a mural, there are three general types of this kind of art: Photography murals, painted scenery or image murals, and abstract murals.
Photography Murals
Murals that showcase photography can take on multiple forms. Whether a single photo or photo montage, art owners can celebrate their favorite photographs in a variety of styles. For example, a large three-paneled wall mural is a good medium for a landscape or cityscape photo. With advances in printing procedures and materials, photo murals can come in canvas, vinyl, aluminum or a photo board material. A benefit to printing photographs on these types of mediums is that they do not require glass to protect the picture.
Painted Scenery or Image Murals
When choosing a mural that consists of a painted scene or image of an item for your home, the first step is to determine what you find striking. Review all of your options. For example, do you have a favorite artist you want to showcase, or would you rather choose a painting that goes with a general decorating theme within your home? Painted murals for in-home purposes require matting and framing as part of their finishing process. Another type of painted mural includes outdoor murals which can be painted on the side of buildings, walls or used as art pieces in city parks or memorials.
Abstract Murals
For abstract art lovers, choosing a mural in this fashion can be the perfect statement piece for your home. Obtaining abstract wall murals can entail either a trip to an art gallery or an online search. These pieces can either be one giant canvas or can be divided into multiple sections. Using abstract murals is a good way to create a modern or contemporary feeling in a home or business.
Choosing a Type of Mural
With the three general types of murals established, how do you choose which one is right for your home or business? Begin by determining what you want out of the mural itself. Ask yourself if you want the mural to depict a memory, a theme or be open for interpretation. Once you clarify the objectives of why you want a mural, choose the type that will best suit your lifestyle and decor choices.