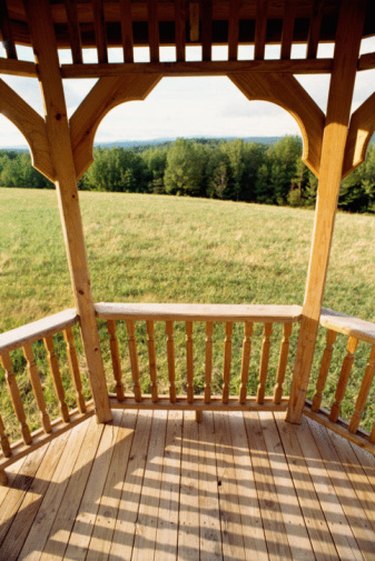 Making sure a gazebo is well-maintained can add years to the life of the outdoor structure. Painting is one way to protect the wood from the rain, wind and harsh sunlight, which will allow the gazebo to last longer and look nicer. Take some time to learn what kind of paint and varnish can be used on an outdoor gazebo to protect it from the natural elements while adding a lovely, finished look.
Before Painting
Clean the gazebo thoroughly. Start by sanding off any old varnish, paint or any rough areas. Sweep the inside of the gazebo to remove any dust, dirt and debris. Once it has been swept out, the gazebo needs to be washed with either a hose or a spray washer to clean off stubborn dirt. Let the gazebo dry thoroughly.
Picking Out Paint
Buy latex paint. It is the best kind of paint for four-season outdoor weather. Home improvement stores and paint stores carry a wide variety of paint types and colors. While buying paint, make sure to stock up on primer and brushes, including two different sized synthetic-bristle brushes and a roller to cover large areas.
Painting Tips
Check the weather. No one wants to spend a day painting only to have it washed away by the rain and have to start all over again. Start with two coats of primer. If the grain of the wood is still showing after the two coats dry, apply another coat. Pour the primer into a roller pan, not to the top of the pan, but enough to coat the bottom of the pan. Roll the primer evenly onto the gazebo. For using a paint brush, fill an empty paint can 2 or 3 inches with primer. Dip a large brush into the can so the paint covers 2 inches of the brushes bristles. Use long even strokes to cover the area. Once the primer is dry, start painting using at least two coats. Make sure to keep at least one gallon of paint in the garage or basement for future touch-ups.
Maintenance Tips
Maintain your gazebo. This is important in keeping the gazebo looking beautiful. If the gazebo was properly sanded before it was painted, the paint shouldn't begin to heavily flake for up to ten years, depending on the harshness of local weather conditions. In order to keep the gazebo looking its best, take the time every year to do a thorough walk-through. Scrape, sand and re-paint any areas where the paint is beginning to peel to stop further damage to the paint job and stave off a complete repainting project for several years.