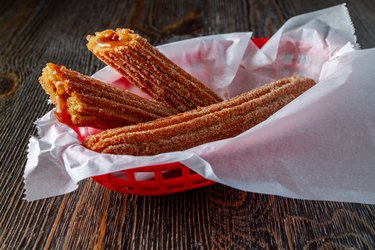 Churros and porras are tasty, deep-fried pastries that originated in the Mediterranean and are primarily known as a Spanish and Portuguese treat. These fried-dough fritters have spread around the world, from Latin America to the American Southwest to the Philippines. Traditionally, they are sprinkled with granulated sugar, but they may be found sprinkled with cinnamon sugar or stuffed with fruit, chocolate, dulce de leche or cheese.
Churros or similar fried-dough pastries have been enjoyed in many cultures for centuries. In fact, a similar flour and water fried-dough recipe was found in a first century Roman cookbook. Eighth and ninth century Arabic sources and 12th century Moorish Spain also feature similar fried-dough treats. In addition, a Chinese breakfast fritter, the youtiao, is similar to the Spanish and Portuguese treats.
Whether churros originally came from Rome, Spain or China, the simple fried dough has become a universal treat. Each culture has taken its version of the churro and added the special embellishments that make it their own. Churros are often fried and sold on-site at special events, much like funnel cakes and similar fried treats, or they may be found in small shops as a breakfast item.
Churros are piped out of a pastry bag, through a star-shaped tip and into the hot oil. The long, skinny dough swirls into the oil, and as it fries, it puffs up to make a pastry with a soft, chewy center and crunchy ribs. Generally, churros are sprinkled with sugar, but in the Southwest, they are often covered with cinnamon and sugar. Depending on the country and shop or vendor, churros may also be served with a chocolate or dulce de leche (caramelized milk) dipping sauce.
In the Caribbean, Central America and South America, numerous variations of the churro are found depending on the country. A Cuban churro is often straight and filled with fruit, while in Argentina, Brazil, Chile and Mexico, you find churros filled with chocolate, dulce de leche or vanilla. In Uruguay, a savory version of churros features a melted cheese filling.
Porras, on the other hand, are shorter, chunkier versions of churros. In addition to flour, water and salt, porras use baking powder, baking soda or yeast as a leavening agent depending on the recipe. Also deep fried, the cook or vendor may use a large tip or just cut a large opening on the pastry bag to pipe the dough into the oil. In addition, the dough rises a little more than a churro would as it sizzles in the hot oil, adding to the thickness of the pastry.
While some cooks have added milk, eggs, butter, sugar and other ingredients to the recipe, the basic churro recipe remains the same: 2 cups all-purpose flour, 1 cup water and 1 teaspoon salt. Boil the water and then add the flour and salt and mix until the water is fully incorporated into the dough. Let the dough rest for five minutes and then spoon it into a heavy-duty pastry bag fitted with a medium star-shaped tip. Heat the oil to 375 degrees Fahrenheit and pipe the dough directly into the fryer in 5- to 6-inch-long sections using your preferred shapes: straight, curved or spiral. Cook until golden, approximately two minutes on each side.
To make porras, use 2 cups bread flour, 1 cup warm water, 1 teaspoon salt and 1 teaspoon baking powder. Mix all the ingredients and set it aside to rest for five minutes. Put the dough into a heavy-duty piping bag with a large tip or opening and pipe 4- to 5-inch portions or long, round spirals into 375-degree oil. Fry for approximately two minutes on each side until golden brown.
After draining the churros or porras, roll them in or sprinkle them with granulated sugar or cinnamon and sugar. You can also drizzle chocolate or dulce de leche over your pastries. Alternatively, fill each porra with the fruit or sweet filling of your choice. Serve them with coffee, hot chocolate, Mexican hot chocolate or horchata.