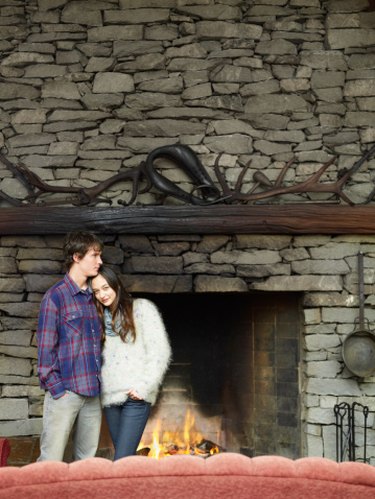 When choosing the proper type of wood for a rustic mantel over a stone fireplace, consider the style, color and existing wood fixtures in the home. Many types of wood will give a rustic feel to a fireplace, and many different stains to give you the color and finish you desire. Here are some options for determining which type of wood will work best for your rustic mantel above a stone fireplace.
Reclaimed Wood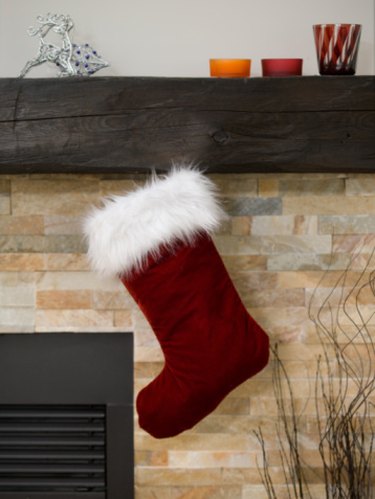 For a true rustic look to a stone fireplace mantel, many home decorators choose reclaimed wood. This kind of wood is usually salvaged from historic or condemned building sites. Railroad ties also have a very dark and antique appearance and can make for a lovely mantel above a stone fireplace. The visible wear and tear on reclaimed wood contributes to the rustic appearance of the mantel. To preserve the look of your mantel, seal the wood with a clear polyurethane or resin.
Cut and Finished Logs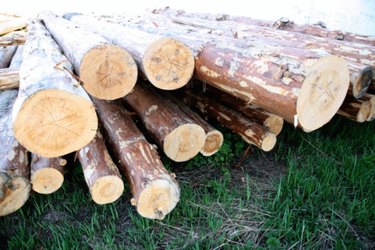 Many rustic mantels are made of logs that have been sealed with a clear wood sealant. Most log fireplace mantels consist of a long log cut in half as the mantel and two rounds cut from logs underneath as supports, though quarter-cut log mantels are also available. Logs can still retain some bark and exposed wood for a two-tone look, or they can be hand peeled to show the natural texture beneath the bark. Stains can make rustic log fireplaces a dark cherry color or a warm golden color. Rustic log fireplace mantels are available from rustic furniture and home decor companies in different sizes and stains, but wood craftsmen can custom make a log mantel to fit your fireplace.
Rough Cut Planks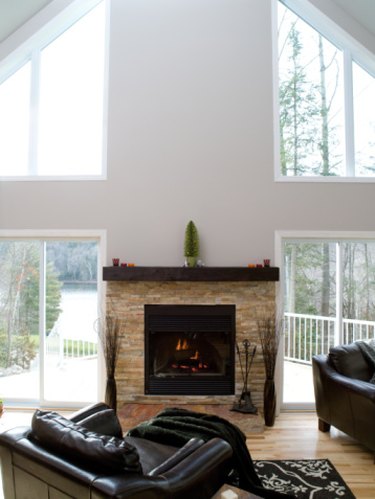 Rough-cut wood planks are also an excellent choice for a rustic fireplace mantel, and some natural color variation in the planks will make the mantel look more rustic. Rough and natural wood creates a rustic look instantly, no matter what kind of wood is used. Pine can work well with lighter colored stone, but darker woods like cherry can also offset a light gray stone fireplace. For darker stone fireplaces, rough-cut aspen can create a beautiful and rustic look to a fireplace mantel.
Textures and Stains for a Rustic Look
Even if you use smooth pine planks for your rustic mantel, you can add texture and stain to the wood to give your mantel that rustic look. Since most rustic home decor is made of unfinished, rough or natural wood, you want to give your smooth planks a rough finish. This can be accomplished by gouging the wood by hitting it with heavy metal chain or using a wood cutting tool to mark lines into the wood. Once your wooden mantel has been roughed up a bit, you can stain it with a color that matches the stone around your fireplace. Dark stains can work very well with stone fireplace surrounds, and a dark stain will make the wood look more aged, contributing to a rustic look.