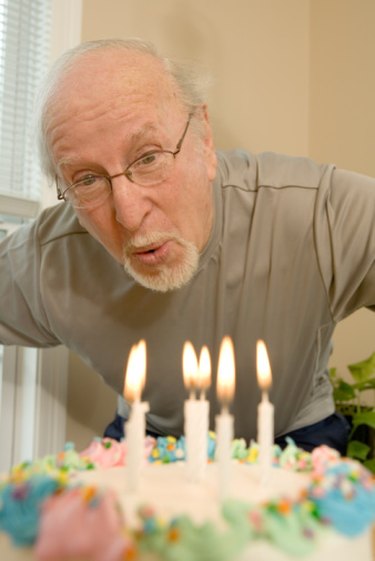 Turning 80 years old is an accomplishment that deserves to be recognized and celebrated in in an extra special way. Plan a big birthday party for the person who is reaching this major life milestone. The party should be respectful and honor the person's long life, with children, grandchildren, and friends participating if possible.
Costume Party
To make the party nostalgic, ask guests on the invitation to dress up in costumes that reflect the era that the person grew up in or the decade when she was born. For instance, if she was born in the 1930s, you could have a 1930s Hollywood theme, and guests could wear shimmery dresses and tuxedos that were popular during that time period. Or if she was in high school in the 1940s, you could turn the party into a 1940s-themed prom night, asking guests to come in 1940s prom styles. Include examples of outfits and tell guests that if they can't find anything from the era specified, they are welcome to wear any formal wear that they have.
Music
Hire a band to play all the hits from the 80-year-old's youth. If he was born in the 1930s, hire a band that can play big-band style of music. If he was a big music fan in the 1950s, hire a cover band to play all the biggest hits from the '50s from artists such as Elvis, Nat King Cole, Ella Fitzgerald and Little Richard.
Memory Centerpieces
Decorate the tables with a tablecloths in the 80-year-old's favorite color. The centerpieces could be a large framed photo of the person in a particular stage of her life. Each table should have a different photograph, surrounded by candles and flowers. Have the frames engraved to say "80 Years of Love," or "80 Years Young."
Slideshow
Create a slide show that shows pictures of the person's life from when she was a child to the present. Include pictures of important milestones such as marriage and the birth of children and grandchildren. If you have any video clips of her, incorporate those into the video as well. At the end of the slide show you could have video clips of friends and family wishing her a happy 80th birthday and saying what she has meant to them.
Tributes
Select a few family members and few friends to make a remark and toast in honor of the person turning 80 years old. If the 80-year-old has several grandchildren or great-grandchildren, have them work together on a poem about their grandparent or great-grandparent.