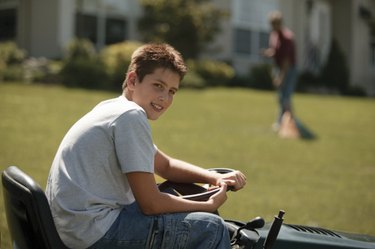 The John Deere 185 tractor is an engine-powered lawn tractor manufactured by the company from 1986 through 1990. The specifications of the tractor can help determine if the product meets your needs and demands. Other needs for the specifications on an outdated tractor can include finding information prevalent to repairs or parts.
Engine
The John Deere 185 lawn tractor was equipped with a Kawasaki FC540V single-cylinder gasoline engine. The engine's bore and stroke measured 3.50x3.38 inches. Displacement was 32.64 cubic inches with 17 horsepower at 3350 RPM. The engine ignited via a 12-volt starter and had an oil capacity of 1.7 quarts. The flywheel alternator charges the 12-volt battery at 15-amps.
Transmission and Fuel Capacity
The John Deere 185 model was equipped with a Sundstrand hydrostatic-type transmission. The gears on the tractor were just forward and reverse. Fuel capacity on the 185 was only 2.2 gallons.
Dimensions
The 185 model was available in either a 38 or 42-inch rear deck. The 38-inch rear deck tractor weighed 625 pounds while the tractor weighed slightly more at 645 pounds when equipped with the 42-inch deck. The wheelbase measured 44.7 inches and the tractor's overall length was 66 inches. The 38-inch deck tractor was 49.7 inches wide and the 42-inch deck is 57 inches wide. Both tractor types were 39.8 inches in height. The tractor's front tires measured 15 inches but the rear tires were 18 inches on the 38-inch deck tractor and 20 inches on the 42-inch deck model.
Steering Components
The drive chassis was a two-wheel drive and featured a manual sector-and-pinion steering system. The tractor came with integral mechanical transmission disc brakes.