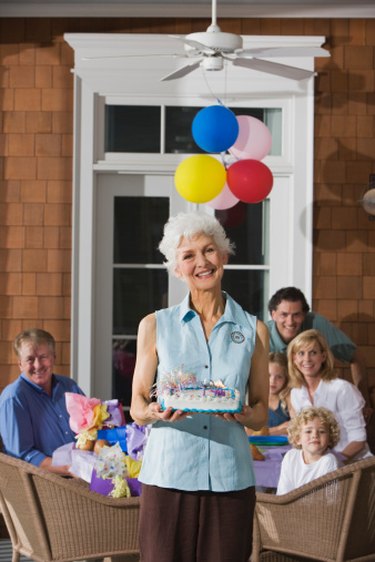 While a princess-themed party is an innovative idea for young girls, a princess-themed party for an adult may seem awkward. However, it is a great way to revive childhood memories and feel like a little girl again. You can make your princess party an entertaining one by getting creative with each part of the party planning. Include as many exotic and glamorous party items you can think of to give your event the "royal" treatment.
Food
A menu served at an adult princess party can include multiple courses, including appetizers, salad, a main course and dessert. Serving the meal in courses adds a touch of luxury and formality to the proceedings. Theme your menu to the party itself. If you are hosting an Arabian princess party, serve exotic and luxurious food items such as turkey, grapes, and mussels in creamy sauce. Conversely, for a formal tea party, the menu can feature triangularly shaped cut sandwiches, tea and petit fours.
Invitations
When having a theme-based party, the invitations need to illuminate recipients as to the party's theme. To imbue your invitations with a royal feel, send silver or golden colored invitations; wrap them in red ribbons for a glamorous princess theme. For a more royal approach, send white invitations printed with black ink and calligraphic font. It is important to mention that the event is a princess-themed party, particularly if guests are required to dress accordingly in themed costumes.
Decorations
To create a glamorous setting for your party, hang white silk draperies on the walls and wrap them with fake pearl or diamond belts. Arrange white balloons with glitter on them around the room to add to the party effect, along with arrangements of white flowers across the party area. For a more formal luncheon or a party, decorate with a collection of antique-looking items, such as vintage tea sets, and use colors such as copper, gold and shades of brown in the draperies. Purple has been a color associated with royalty for centuries, so consider decorating with an all-purple theme.
Costumes
Since it is a princess party, costumes need to be set accordingly. Ask guests to wear glamorous gowns in shades of pink or purple and add to the princess effect by handing out elbow-length white gloves as the ladies arrive. Any guys invited to the party can dress up in white dress shirts and black tuxedos with bow ties.
Activities and Games
You can plan many fun activities for your princess party. Ballroom dancing in a dimly lit room can be one of the activities for an adult princess party. Alternatively, organize a trivia period that encompasses questions on famous modern princesses, such as Princess Diana and Grace Kelly. You can also make the activities more interactive by organizing a tiara-making competition; set out plastic tiaras, diamantes, stars and glitter for guests to use. If it is a birthday party, crowning the birthday girl with a princess tiara can also be a fun activity.