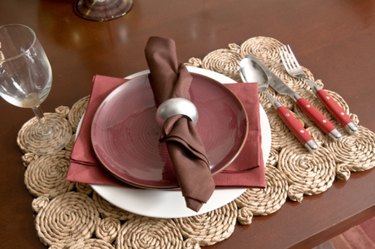 Traditionally, a placemat is a protective mat used to protect the surface of a table from damage. Damage to a table can be caused by heavy or sharp items, hot pots or pans and writing implements. Placemats are typically made from paper, plastic or cloth and can be used on any type of table at home or in a restaurant. Clever new versions of placemats are coming on the market.
Home
At home a placemat is usually made of vinyl or cloth. In addition to table protection, placemats in the home are used as part of the décor and add to the ambiance of the room. Vinyl placemats with prints for holidays and special occasions or solid colors provide a functional appearance, while cloth placemats with ruffles or lace provide a more elegant look.
Restaurant
Many family restaurants use printed paper placemats to help patrons pass the time while waiting for their orders to arrive. Paper placemats can be printed with ads, heart-warming stories, jokes and quotes for an adult's amusement. This type of placemat can also be printed with pictures to color, mazes, connect-the-dot games, crosswords and circle-the-word puzzles for kids. Restaurants that offer printed placemats will typically provide guests with crayons or pencils as well.
School
A new type of placemat is being used in classrooms to help students concentrate on their studies. School placemats vary from class to class and school to school in design and content. The mats are typically made of paper and contain areas for vocabulary words, notes, pictures, goals and questions with space for answers. In some cases the mats are turned in to be graded, while others are kept by the students to help them study for tests and quizzes.
To Go
Cloth and vinyl placemats with Velcro closures are fairly new to the market. This type of placemat has closures so the mat can be folded to form a pouch for snacks or sandwiches. When the food is unwrapped, the wrapper becomes a placemat. This product was designed to be washable, reusable and environmentally friendly. For people who pack their lunch, it provides a clean eating surface no matter where they are. When you are finished eating, the placemat can also be a napkin.