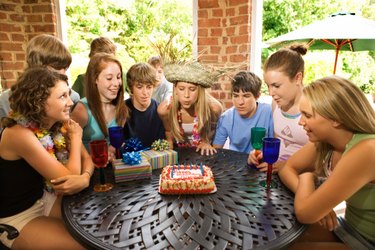 Many teenagers plan on having some sort of party to celebrate their 16th birthday. A variety of 16th-birthday party options exist, one of which is having a dinner party. The 16-year-old's interests should help determine what restaurant would be a good idea. If you have a large party, make party reservations at the restaurant prior to the party date.
Sports Bar
Having a 16th birthday party at a sports bar can be a fun and entertaining event. If the 16-year-old is a interested in sports, going to a local sports bar can be a good decision. Sports bars usually have big-screen TVs with multiple sports events on at one time. Because sports bars have a raucous atmosphere, the dinner party can be somewhat loud. Also, the food at sports bars (appetizers and entrees) is modestly priced. However, research the patrons the sports bar serves before holding a party there. Many bars will not allow 16-year-olds.
Pizza Parlor
A local pizza parlor can be a great idea for a 16th-birthday dinner party. Because ordering pizza is often a group experience, the birthday party guests can vote on what kind of pizza and toppings they would like. Special party events can sometimes be arranged at a local pizza parlor. For these events, the pizza parlors can cater food and seating to a specific number of people in a party.
Sushi Restaurant
Sushi restaurants are also a good idea for a 16th-birthday dinner party. Although sushi restaurants tend to be more expensive, the group-ordering mentality creates a fun atmosphere. For instance, the guests can choose different sushi rolls to try and share. Because this is a more specialized restaurant selection, it is a good idea to check with all the guests before holding the party at a sushi restaurant.
Movie Theater Restaurant
Some movie theaters also serve dinner. This would be a good idea for a 16th-birthday dinner party because the guests could simultaneously watch a movie and eat dinner. Some restaurant theaters require customers to order and pick up food at a window, while others have waiters who serve customers. Your 16-year-old's friends may like the idea of having dinner and watching a movie at the same time.