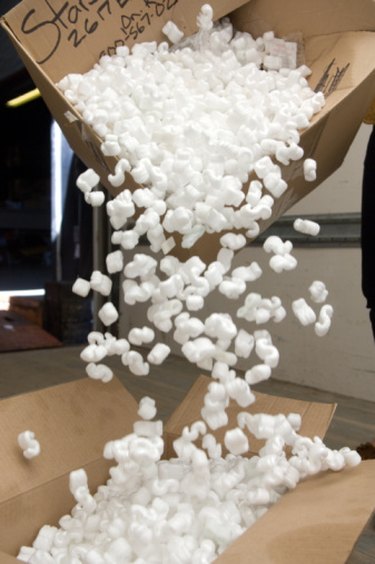 Styrofoam crown molding is an inexpensive alternative to costly wooden crown molding. Styrofoam molding is lightweight, easy to cut and much easier to install than heavy wood molding. Once fully installed and painted, the material closely matches the appearance of real wood. Choosing paint for Styrofoam crown molding is similar to selecting paints for molding made of wood.
Latex Primer
Although primer application is not required for painting Styrofoam crown molding, it provides a protective layer and easier bonding for proceeding coats of paint. Primer sold as an all-in-one primer and sealer combination seals a Styrofoam surface and prevents noticeable stains from bleeding through the finished paint job. Primer also helps achieve true color definition in the top coats of paint. Latex primer is recommended for use underneath latex top coats of paint.
Latex Semi-Gloss Paint
Crown molding made of wood is commonly painted with latex semi-gloss paint in a white finish. Latex paints bond well to Styrofoam molding and coating the surface with a white semi-gloss paint finish gives the convincing resemblance of wood molding and provides a beautiful shiny finish. Painting Styrofoam crown molding is accomplished using a paint brush or sprayer. Using a paint sprayer provides a factory-like spray finish. The smooth surface of semi-gloss paint also allows easier cleaning.
Faux Paint
Faux painting techniques for molding are typically used to imitate the natural appearance of wood or marble. Faux materials for Styrofoam are latex or water-based. Faux finishing Styrofoam molding using a wood grain technique mimics the natural look of wood and reduces the costly expenses of buying crown molding made of real wood. Faux painting Styrofoam molding to resemble wood, or marble, requires creativity, a steady hand and a great deal of patience. Wood and marble faux techniques require the use of an artist brush.
Latex Enamel Paint
Painting Styrofoam crown molding with a coating of latex enamel paint creates a hard and durable surface. Traditionally, enamel paints were only available in oil-based products, but now you can purchase latex enamels. Oil-based enamels and paints are not suitable or recommended for painting Styrofoam crown molding. However, latex enamel does not harm Styrofoam and gives the illusion of real wood. A latex enamel finish resembles the sleek look of oil-based enamel and provides a surface harder than a typical semi-gloss paint.