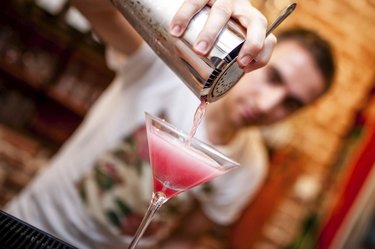 Triple sec was originally created in France and is an orange-flavored liqueur. The word "sec" means "dry" and subsequently, these products are drier than curaçaos. Cointreau is a brand of triple sec. You have likely heard of, if not tried, a number of mixed drinks with triple sec, such as margaritas, cosmopolitans and Long Island iced teas.
Cointreau Versus Triple Sec
Triple sec is a clear-colored, orange-flavored liqueur made from a neutral grain and generally with a low sugar content. A number of brands and products produce triple sec, although when you hear the term "triple sec" used, it often refers to any generic orange liqueur, most of which are lower in price and alcohol content than a branded version of triple sec.
Cointreau is a popular and well-known triple sec liqueur. It is made of sugar beet alcohol and both sweet and bitter orange peels. It has 40 percent alcohol by volume (AVB), higher than many generic triple sec products. Cointreau is a French product and the first brand of triple sec, although it is typically not marketed as a triple sec today.
There are several other well-known brands of triple sec. A few of these include Bols triple sec, Combier Liqueur d'Orange, Luxardo Triplum Triple Sec, Marie Brizard Orange Liqueur and Patron Citronge.
Other Types of Orange Liqueur
The other main type of orange liqueur besides triple sec is Curaçao. This liqueur originated from the island of Curaçao and is also a brand name that makes the product. It is considered to be the original orange liqueur product, and was made by Dutch settlers on the island in the 19th century. The product was originally made with rum as a base, but now is often based on brandy or grain-based spirits, along with various spices.
Curaçaos tend to be sweeter than triple sec products and have a lower AVB, in the range of 15 to 40 percent. The products may be clear but are often found in orange or blue.
Grand Marnier is another well-known orange liqueur. It is sometimes considered a type of Curaçao or a hybrid of Curaçao and triple sec. When it was originally released, it was named Curaçao Marnier. It has a 40 percent AVB, which is the same alcohol content as Cointreau.
Mixed Drinks With Triple Sec
There are countless drinks you can make with triple sec. Keep in mind that if you use a triple sec with lower alcohol content, the drink may come out sweeter than when using Cointreau. Two classic recipes are margaritas and cosmos. Cosmopolitan ingredients are simple and include Cointreau, lemon vodka, lime juice and cranberry juice. A basic margarita consists of tequila, triple sec, lime juice and simple syrup, although you can spice up the recipe with other types of liqueur or fruit flavor.
There are many other easy recipes made with triple sec. For example, consider making an African Breeze with Cointreau and Amarula cream liqueur, or a Fluffy Dog with equal parts Cointreau and Baileys. A Triple Sec Sunrise is another easy recipe containing triple sec, orange juice and grenadine syrup.