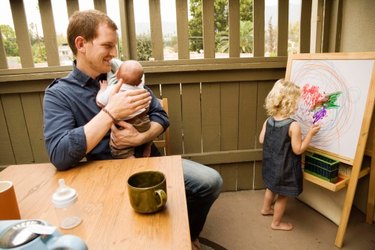 Welcoming a new baby is exciting for everyone involved, but especially for the new older brothers and sisters. Allow your older kids to express their excitement with a craft project that can be displayed to welcome the baby into your home. Making a project will help them feel involved and important, which can help dispel resentment they might feel over the attention that their new little sibling is getting.
Candy Rattles
You will need two plastic spoons, some tape, a piece of ribbon and small candies in either pink or blue. Snap the handle off one of the plastic spoons so that only the top part remains. Fill the second spoon with the colored candies, such as mini candy-coated chocolates, and lay the top half of the first spoon over the second to cover the candy. Tape the spoons together around the bottom and cover the tape with the ribbon by tying it in a bow. The finished product should look like a pretty rattle and should make a rattling sound when you shake it because of the candies inside. This can be used to decorate the house when the baby is brought home, but should not be given to the baby. These can also be given to all of the new older siblings after they are made to get them excited for the baby's arrival instead of jealous.
Felt Hair Clips
For a new baby girl, kids can create cute hair accessories with some plain silver clips, felt and glue. Cut little flowers or shapes out of the felt and decorate with markers, glitter or stick-on rhinestones. Glue shapes to the top of one of the clips and allow it to dry.
Welcome Sign
Cut out a large baby-themed shape from a piece of oak tag, such as a rattle, carriage or bottle shape. Write messages to welcome mom and new baby home, such as "We're so excited to meet you!" or "Congratulations!" and hang the sign on the front door.
Beaded Baby Bracelet
For a new baby girl, kids can string little bracelets to fit on her tiny wrists. Get a piece of elastic string or jewelry wire and some small seed beads. Knot the end of the string, string the beads on the bracelet in the pattern of your choice and tie the ends together. Use a large doll or stuffed animal to measure the approximate size of a new baby's wrist.