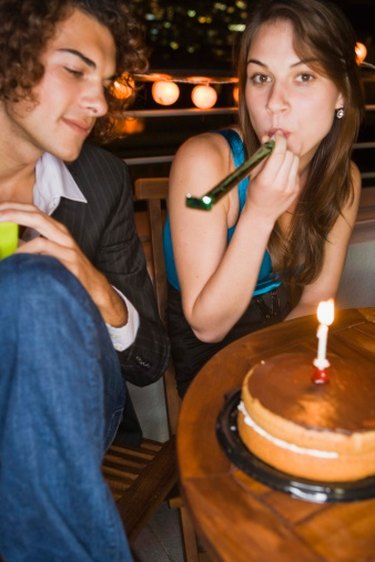 If your daughter is about to turn 16, you may feel compelled to throw a Sweet 16 party for her. However, some girls are not enticed by birthday cake and parties, preferring to celebrate more casually or quietly. Planning a celebration for her may be difficult, but it doesn't have to be impossible.
Travel
Many teenagers dream of getting away from their hometowns and going to exotic locales. Even if you can't send your 16-year-old on a cruise or backpacking through Europe, you can take her somewhere she'll enjoy. Possible travel options include a weekend away with friends, with you acting as chaperone in a separate hotel room. She may also appreciate a family trip to a theme park or the chance to drive somewhere alone for a day.
Gift Treasure Hunt
If you have one large gift for your 16-year-old, such as a car or computer, you can make receiving it even more fun by creating a daylong treasure hunt. Start your teen's birthday with breakfast in bed, and hide the first clue under one of the plates. Tell her that she'll find the next hint at school or at a friend's house. Fill the friend in on the idea beforehand, making her promise to wait until the end of the day to give the next clue. By making your teen hunt for her gift in a fun way, you can make the receipt of that gift even more special.
Spa Day
Treat your teen and her best friend to a spa day. This can be as elaborate as a day full of skin treatments and massage, or as simple as a manicure and pedicure, depending on your budget. Give her a gift certificate and a ride, and let her enjoy the pampering on her own. Teenagers welcome any form of independence, making a spa day special for a reason other than the pampering. Treat her to a nice dinner or movie once she has enjoyed a day of being made beautiful.
Volunteer Day
While it might seem counterintuitive to focus on others on your birthday, volunteering allows your teen to celebrate her special day with others who are happy to see her. She could take cupcakes to senior citizens in a nursing home, to children in the hospital or to a homeless shelter. For those who find birthdays depressing, volunteer work is a sure way to brighten them up. Make sure to treat her to a special dinner afterward and tell her how proud of her you are. Your love and pride are the best gifts she could receive.