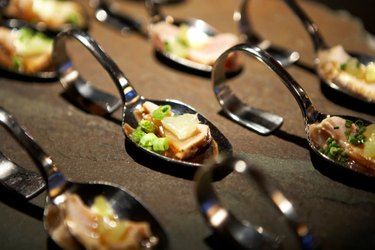 When you're hosting a black tie party, the menu should be as formal and elegant as the attire. Offer hors d'oeuvres when your guests arrive, and follow with a three- or four-course menu. Don't overwhelm guests with strong flavors early in the meal, or it will overpower a lighter main course. Follow a theme, such as classic French or Mediterranean, and use different cooking methods for each course so your guests experience a variety of tastes and textures.
Hors D'Oeuvres and Beverages
Choose elegant hors-d'oeuvres that will whet your guests' appetites and prepare them for a spectacular meal to come. Small bites are essential, as are top-quality ingredients and artful presentation. Oysters and caviar make classic choices if you have a limited budget. Offer small sushi rolls for a light and beautiful choice, or top cucumber with Thai shrimp and a few scallions. For beverages, Black Tie suggests a full bar, including wine, champagne, beer and liquor. Or offer a few signature cocktails to start the evening, then match wine to each course.
First Course
The first course should be light and appealing. Offer seafood, vegetables or even pasta if your menu has an Italian theme. Pasta can be anything from ravioli filled with goat cheese to angel hair pasta with a light tomato sauce and shrimp. If you're planning to serve seafood, think of a smoked-salmon mousse or a crab, mango and cucumber salad. For vegetables, choose hearty mushrooms in puff pastry with a garlic cream sauce.
Main Course
For the main course, provide showstoppers such as beef tenderloin or even rib-eye steak cooked to perfection. Lobster tail always makes a lovely choice for a formal dinner, as does baked salmon roulade or scallops in a vanilla cream sauce. If you are considering poultry, instead of chicken try Cornish game hens with a blackberry sauce reduction.
Cheese Course
For a cheese course, serve a wide range of cheeses. They should vary in both texture and strength. Guests should start by eating the mildest, creamiest cheese, such as Brie, work their way up through the stronger cheeses and finish with a Gorgonzola or other blue cheese. The stronger cheeses can work with more flavorful accompaniments, such as rye crackers, but for the most part, serve plain flavors in the breads and crackers to highlight the flavor of the cheese. Don't forget to offer wines to complement the cheeses.
Dessert
End the meal on a high note with a dessert that not only looks but tastes fantastic. Try tiramisu served in martini glasses, chocolate mousse or even a strawberry soup served in champagne glasses. A torte looks wonderful and makes an appropriate choice for a formal dessert. Offer dessert wine as well if you wish, along with specialty coffees with liqueur and whipped cream or even fine brandy and cognac.