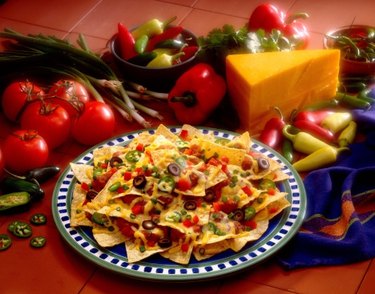 Cinco de Mayo is a holiday celebrating Mexico's victory over French forces in the battle of Puebla on May 5, 1862. It's observed all over Mexico (and the United States) with fiestas and spicy Mexican food and drink. Cinco de Mayo is a great excuse for a fun office party and offers you and your co-workers a nice break from a hard day's work.
Food
Set up a taco bar for your Cinco de Mayo party, complete with taco shells, meats and all the fixings ready for partygoers to assemble. Nachos with chili-cheese dip, guacamole or pico de gallo make nice appetizers, and a caramel flan or cinnamon chocolate brownies can be offered as dessert. Virgin margaritas or lime punch can be served as the main beverage.
Music and Decorations
String chili pepper lights or foil danglers from the ceiling of your party room. You might also decorate with a Mexican flag, sombreros or lifesize paper cactus cutouts. However, if you don't have the money to go all out, you can simply use solid-color decorations in the colors of the Mexican flag: green, white and red.
Traditionally, Cinco de Mayo is celebrated with mariachi music; but for an office party, you're probably better off buying a CD of mariachi music, available at most party stores.
Party Favors
Cinco de Mayo party favors could include maracas; small gift items with a chili pepper theme, such as chili pepper ties or jewelry; flan mix; streamer string; or personalized candy bars. These items can be bundled in small packages for each guest, or used as prizes for party games.
Games
No Cinco de Mayo party would be complete without a pinata. Fill the pinata with party favors or candy and let your partygoers take turns being blindfolded, twisted around, and turned loose to knock it open with a stick. Alternatively, you can hold a limbo, "Macarena" or Mexican hat dance contest. If your co-workers love peppers, bring out bowls full of hot peppers of varying intensities and hold a pepper-eating contest to see who gets the office title of "Hot Lips."