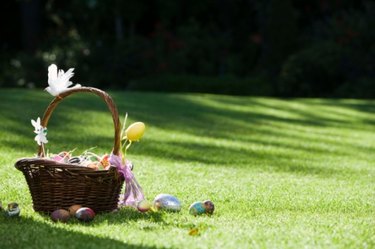 Easter is a religious holiday that is often celebrated with a gift exchange. While many people choose to focus on the children during this holiday, surprise your girlfriend this Easter with a special gift basket. A gift such as this will show her how appreciated and loved she is. Fill a beautiful pastel-colored basket with items that reflect her personality, hobbies, special interests and favorite treats.
Romantic Gifts
Fill your girlfriend's Easter basket with items traditionally associated with romance. Choose a bouquet of her favorite Easter flowers, such as lilies, tulips or daffodils, in place of red roses as the centerpiece of the gift basket. Continue the holiday theme by purchasing a selection of fancy chocolate Easter eggs or other chocolates, such as truffles, in an Easter box. Include additional Easter candy if she has a sweet tooth, such as jellybeans, and fill up the rest of the basket with items for the two of you to share. Consider a nice bottle of wine, scented candles and warming or flavored massage oils.
Religious Gifts
If your girlfriend is religious, Easter is the perfect holiday to show her that you respect, or share, her faith. A variety of religious gifts can be found at online stores and religious retailers such as Catholic or Christian book stores. Include a new Bible, or other religious text, with special details such as gold-embossed pages. You could also include religious T-shirts or music. If you are at a serious stage in your relationship, or you wish to progress to a more serious status, give your girlfriend a beautiful, delicate cross necklace. Consider having it engraved with the date or a saying that is special to the two of you.
Pamper Her
Pamper your girlfriend with an Easter basket full of relaxing items. Give her the ingredients to create a soothing spa day in her very own bathroom. If she enjoys baths, include lightly scented bubble bath, bath salts and bath oils for her to use along with a bathtub pillow and candles to create a tranquil atmosphere. Give her a manicure or pedicure set, complete with nail files, polishes and nail art so that she can give her hands and feet a treat after softening them in the bath. Your girlfriend may also enjoy lush body creams, perfumes, salt scrubs and lip balm. If you're looking to include a more expensive gift, a gift certificate for a spa treatment such as a massage or facial is sure to be well received.
Foster Her Creativity
Foster your girlfriend's creativity with an Easter gift basket filled with items she can use to indulge in her favorite hobbies. If she loves to knit, give her an assortment of knitting needles, yarn in her favorite color and a book of new patterns or knitting tips. For the painter, include new paints and paintbrushes, a table easel and perhaps a blank notebook so she can sketch out ideas. You can also fill her Easter basket with the appropriate items if her favorite hobby is drawing, sculpture, sewing or even cake decorating. She will also enjoy a gift certificate to a craft or specialty store, where she can pick out her favorite items.