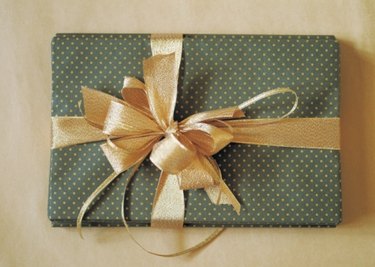 Thirty years of marriage is a milestone often celebrated by the happy couple with family and friends. Take what you've learned about the couple during the time of your friendship for ideas for a 30th anniversary gift. Traditionally the wedding gift for the momentous occasion is pearl and the contemporary theme is diamond, but deviating from the standard might result in a more personal gift to your friends.
Pearls and Diamonds
Each milestone wedding anniversary usually has a theme for wedding gifts. The most common traditional gift for the 30th anniversary is pearl. Consider buying a gift with a pearl finish on it, such as a chess set with pearled pieces or a keepsake box with a pearl finish. Diamonds are a more modern 30th anniversary gift theme. Since the expense of diamonds might not be in your budget for an anniversary gift, consider gifts adorned with crystal rhinestones such as note cards or a vase with rhinestone embellishments.
For the Home
Thirty years of marriage is three decades of living in the same home together. To recognize the home the couple have made for themselves, contemplate giving a gift the couple can use in or outside their home. For outside, purchase a flower that incorporates the pearl or diamond theme such as a Rose Pearl Anniversary or Clematis Ocean Pearl. Inside, a new piece of wall art or clock can bring back memories of the occasion every time they see it.
Out on the Town
After 30 years of marriage, your friends might enjoy a gift for an afternoon or out on the town after you give them a gift certificate. A couple's massage at a local spa is a relaxing, personal gift for friends you've known a long time. A certificate to a romantic restaurant or the couple's favorite dining spot or tickets to a concert of their favorite singer lets them celebrate their history together by spending time together
Engraved Gifts
An engraved gift for the happy couple helps mark the significant occasion with a lasting tangible memory of the day. A 30th anniversary wedding frame engraved with the name of the couple, wedding date and wording marking the occasion can be a accompanied with a gift certificate for a professional photo session to get their picture taken as a couple. Two monogrammed wine glasses with a 30-year-old bottle of wine or Champagne might be a fun, engraved gift as well.