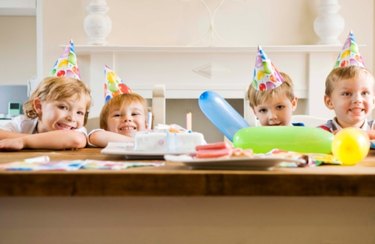 Planning a party for a child, especially a 5-year-old, can be just as challenging as planning an event for adults. Children have varied tastes when it comes to fun, food and their fear of trying something new, so you need to plan events that appeal to a variety of kids. Keeping the guest list small is a good idea, and planning several alternate activities helps everyone stay happy for the few hours of the party.
Outdoor Locations
One of the best ways to keep the mess of a children's party manageable is to have an outdoor party. Gathering 5-year-olds in a community park for cake and ice cream, a swing at a tree-hung piñata and some fun on the sliding board makes clean up simple. There are also plenty of fun activities you may be able to do outdoors at a party depending on the season. Consider planning a party at a farm or orchard where kids can pick apples, berries or pumpkins. This is a great way to send kids home with a fun favor without have to buy party favors.
Active Parties
Sometimes the best way to ensure your children's party does not get out of control is to keep the kids busy. Arranging a party around an activity is one of the best ways to occupy children and keep them out of trouble. Planning a scavenger hunt or treasure hunt for children to complete is a great way to keep their brains and body busy. The hunt can be personalized for the birthday child, so the game is like a celebration of him. Other fun activities for parties include ice skating, bounce houses or karate class. Remember to make the activities need to be age-appropriate, so for 5-year-olds most activities would be basic or introductions.
Water Park Fun
Many areas have water parks which are a great option for children's parties. Depending on your region of the country, you may have both indoor and outdoor water parks near your home. This means a water park party can be hosted any time of the year. Many parks even offer party packages, and guests enjoy party rooms, cake, beverages, favors and discounted admission to the park. It is a good idea to include extra parent chaperones on the guest list for a water park party for 5-year-olds so children are safely supervised.
Educational Parties
If your child loves learning, a party is a great opportunity to let her have an exciting experience that is also educational. Many communities offer tours of the local fire or police station. Following the tour, kids can gather outside of the station for a picnic and may have a chance to see a fire engine or police car take off with the sirens blaring. There are also a number of factory tours available across the country. If you live near a factory where candy is made, crayons are created or teddy bears turn into lifelong pals, you have a great party opportunity for your 5-year-old.