Long, hot summers, violent thunderstorms and lightning strikes, frequent tornadoes and average annual rainfall ranging from 15 inches in the Panhandle to more than 4 feet the southeastern state are some of the difficulties facing Oklahoma gardeners. The good news comes with long growing seasons -- between 5 1/2 months in northern Oklahoma and 7 months near the southwest's Red River. The Sooner State's native trees and plants provide unflinching, low-maintenance landscape performance regardless of conditions.
Perennials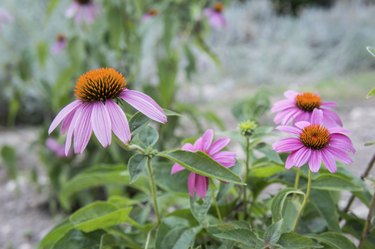 Pale purple coneflower, or Echinacea pallida, grows on eastern Oklahoma's prairies and wooded hills. This 2- to 3-foot perennial's stems emerge from clumps of lance-shaped green foliage Its May-to-July, lavender daisylike flowers have conical, golden brown centers. Pale purple coneflower likes full sun and fertile, acidic soil. Prairie paintbrush, or Castilljea purpurea, grows on the Oklahoma-Texas border's grasslands. The up-to-18-inch perennial has hairy, grayish-green stems and foliage. Its 6-inch flower spikes bring shades of orange, red, purple and yellow to the spring and summer landscape. Prairie paintbrush grows in full sun and dry, alkaline soil.
Shrubs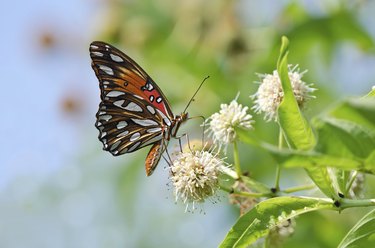 Common buttonbush, or Cephalanthus occidentalis, grows in wetlands and on dry limestone bluffs across Oklahoma. The 6- to 12-foot shrub has glossy, tapering green leaves and spherical, fragrant summer blooms. The white or pink, pincushionlike flowers produce tiny, round red fruit. Buttonbush tolerates up to 3 feet of standing water. It thrives in partial to full shade. Golden currant, or Ribes aureum, is a 3- to 6-foot shrub common in the western Panhandle and along western Oklahoma's hills and river valleys. It has light green foliage and yellow spring blooms. The spicily scented flowers give way to red, yellow or black berries. Drought-tolerant golden currant grows in sun to partial shade and dry or moist soils.
Deciduous Trees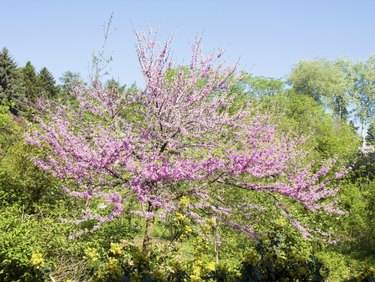 Eastern redbud, or Cercis canadensis, is the Oklahoma state tree. It grows on bluffs and stream banks. Wild populations are common except in the westernmost and Panhandle counties. The 15- to 30-foot tree's clusters of pink, early spring flower clusters emerge directly from its branches. Heart-shaped green foliage opens after the blooms. The shade-loving tree likes moist, well-drained soil. Pawpaw, or Asmina triloba, grows in eastern Oklahoma's fertile, moist bottomland and floodplain soils. Its bright green spring foliage provides yellow fall color. The 10- to 40-foot tree has deeply veined, purple spring flowers and yellow to green, edible banana-flavored fall fruit. Pawpaw tolerates full sun to full shade.
Evergreen Trees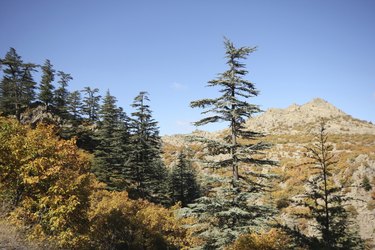 Ponderosa pine, Pinus ponderosa, grows only in the Panhandle's Cimarron County. Reaching heights up to 150 feet, the tree has short, upturning branches with yellow- to grayish-green needles. Branches seldom occur on the lower half of its trunk. The tree's exfoliating bark is yellow-orange to reddish brown. Its seeds are an important food source for quail, squirrels, chipmunks and other bird and wildlife species. Ponderosa pine does best in acidic, loamy soil. It grows in sun or shade. Live oak, or Quercus fusiformis, is a short-trunked, crookedly branched 20- to 40-foot evergreen. It has oval, olive green foliage. It grows wild in the loamy, limestone-based Arbuckle and Glass Mountains soils of southwestern Oklahoma. The drought-tolerant oak likes sun to partial shade.