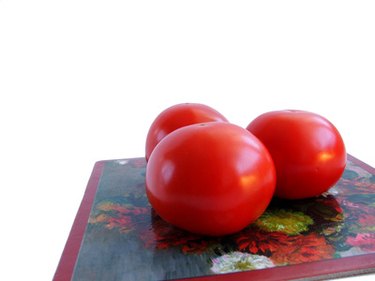 Bruschetta originated in Italy as a way to serve and eat day-old bread. Italian purists believe that real bruschetta is made with Italian bread grilled with olive oil, rubbed with garlic and topped with sea salt. It is inherently a simple concoction that does not require a lot of work or effort. It is important to use high quality, crusty bread, but the toppings and meals it is served with vary considerably.
Basic Italian Bruschetta
Varieties of Italian bruschetta begin with the toasted variety with olive oil and sea salt, but can get much more complex. Broil bread topped with olive oil, garlic and Parmesan cheese. Top simple grilled bruschetta with a mixture of cut-up tomatoes, olive oil, shallots, balsalmic vinegar and torn basil leaves. Grill the bread, rub with garlic and then rub with a tomato cut in half to get the juices flowing. Roast garlic in the oven before using as a spread on grilled bread with a drizzle of high quality olive oil for a delicious combination of flavors.
Italian Meals
Many traditional Italian meals are served with bruschetta as an appetizer or side dish. Try serving bruschetta before a meal of lasagna, ravioli or spaghetti. Bruschetta would also make a good addition to a vegetarian meal such as eggplant parmigiana. Since bruschetta originated in Italy, it is served with almost any meal that is traditionally Italian, so use your imagination to come up with a delicious combination.
Brushetta as a Meal
Since bruschetta contains all of the major food groups, it can rightfully be served as a meal on its own. This can be fun for a cocktail party, book club or bruschetta night. Top bruschetta with any toppings that you enjoy, such as pulled pork and arugula or a mixture of vegetables. Try kale sauteed in olive oil and garlic as a delicious topping or goat cheese, tomatoes and basil. Make sure that you have enough bread, garlic, olive oil and toppings to make the meal complete. Serve with a salad and wine.
Contemporary Bruschetta
Modern bruschetta is found with many different toppings in a variety of settings. Match bruschetta with a variety of styles of cuisine, such as southwestern, contemporary American, Portuguese or Spanish. Bruschetta would make a good accompaniment to paella or seafood stew, as the bread can be used to soak up liquid and broth. A contemporary American meal could include bruschetta with interesting toppings such as pork belly or bone marrow. Southwestern bruschetta could be topped with jalapeno salsa and jack cheese. As long as the toppings match the cuisine, it can go with most types of food.