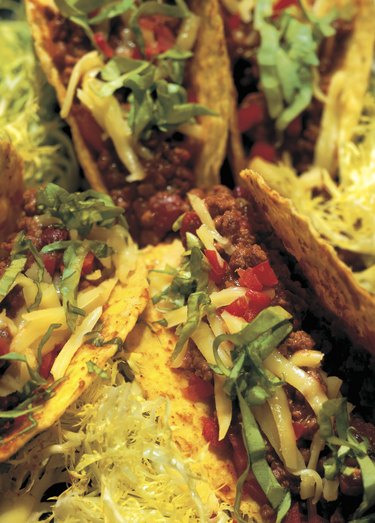 When you want to deliver a little south-of-the-border flair to dinner table, premade taco seasoning can turn boring ground beef into a fiesta of flavors. Each 1-ounce package of seasoning mix contains enough spices to flavor 1 pound of ground beef. You can alter the intensity by adding more or less than one package.
The Mexican Mix
Most taco seasoning mixes contain about 1 ounce of spices and seasonings, enough to flavor 1 pound of ground meat. The manufacturer's directions usually indicate to cook the ground beef, drain off the fat then add the full package of seasoning mix, along with some water. Bring the mixture to a boil, reduce the heat and allow it to simmer for a few minutes before serving.
You can add the seasoning mix to raw meat and cook without adding additional water but the spices drain off with the fat and the resulting meat is drier and has a more mild flavor.
DIY Taco Mix
If you want to skip the checkout stand, make your own taco seasoning mix at home. The main ingredient, chili powder, gives the seasoning its characteristic reddish brown color. Other ingredients in traditional taco seasoning include ground cumin, garlic, onion, red pepper, paprika, oregano and salt. For hotter flavor, use more chili powder; for milder flavor, opt for more cumin and garlic. Store the mix in an airtight jar. To season 1 pound of meat, start with 2 tablespoons of seasoning mixture and 1/2 cup of water and adjust the flavor intensity by adding more seasoning or more water.
Versatility on the Shelf
Taco seasoning can also be used in other Mexican dishes, such as enchiladas and fajitas. For enchiladas, use the spice mix in the meat in the same ratio as for tacos. If you don't have any enchilada sauce, add one package of taco mix or 2 tablespoons of homemade mix to a 15-ounce can of tomato sauce. For beef or chicken fajitas, add the spice mixture to the cooked meat, along with 1/2 cup of water and 1 tablespoon of lime juice and allow to simmer.
It's What's In There
Along with seasoning and spices, premade mixes may include chemicals that help preserve and sometimes color the ingredients. Premade taco seasoning may include fat, anticaking agents, preservatives and may include artificial colors or flavors. They often contain a lot of salt, too. Check the ingredients before choosing the brand that suits your preferences.