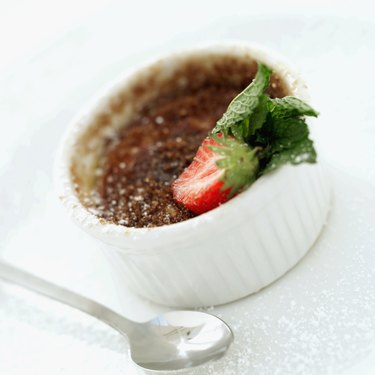 When you want to serve an impressive dessert at a dinner party, creme brûlée is the perfect choice. You know exactly how much to make because each person gets an individual ramekin. Best of all, it can be made almost completely ahead of time and simply caramelized right before serving. In fact, the custard has to be made ahead of time, leaving you extra time with your guests instead of slaving in the kitchen.
Choose a Recipe
You can make creme brûlée as far as three days or as close as six hours before serving. It must chill completely in the refrigerator before the final caramelization of the sugar on top. The classic vanilla bean creme brûlée is loved by almost everyone, but chocolate, pumpkin, coffee-caramel, lemon and many more flavors can be baked into the custard. Choose your recipe and gather the ingredients before cooking.
Cook as Directed
Follow the directions for the creme brûlée recipe that you chose. Make sure you follow them precisely. Creme brûlée isn't difficult to make, but it does require being careful with the steps. When the creme brûlée is finished cooking, remove carefully from the oven, making sure not to splash any of the hot water from the pan into the custard. Allow to cool.
Cover Tightly and Refrigerate
This next step will ensure that when you take the ramekins out of the refrigerator, your creme brûlée will still be in delicious, edible condition. When the ramekins are cool enough to touch, tightly cover each one with plastic wrap or foil and then refrigerate. If you'll be keeping them in the refrigerator for a couple of days, this step is especially important so that other odors or flavors don't get into your carefully prepared creme brûlée cups.
Caramelize before Serving
It will take you just a few minutes to put the finishing touches on the dessert you made days ago. About 30 minutes before serving the creme brûlée, remove it from the refrigerator to allow it to come to room temperature. Sprinkle with a fine sugar and caramelize the top by using a kitchen torch or placing the ramekins under the oven broiler. Serve to your appreciative guests.