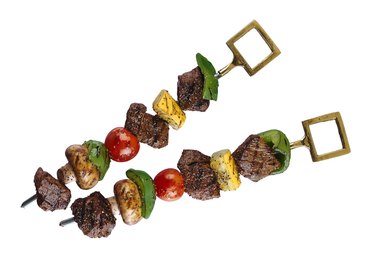 Souvlaki is a popular Greek dish typically grilled on a skewer. It consists of pieces of marinated meat that may be eaten alone, with pita bread, as part of a salad, garnished with sauce or served with fried potatoes. The most common meat used in Greece is pork, but souvlaki can also be made with chicken, beef, turkey or lamb. If you don't have a grill -- or grilling weather -- you can infuse this dish's succulent flavors into a meal using your oven.
Basic Components
To make souvlaki in the oven, you'll first need to choose which meat you want to cook. If you're using beef, look for a well-marbled cut. Alternatively, use boneless chicken or turkey or a lamb loin roast. Souvlaki also requires olive oil, lemon juice, Greek salad dressing and a blend of oregano, thyme, garlic and mint. You'll want one pita per person, a bowl of fresh greens with cherry tomatoes, olives, cucumber and onions, and crumbled feta cheese. Keep the lettuce mix and cheese in the refrigerator while you prepare the meat and pita.
Preparing the Meat and Pita
Marinate the meat to prepare it for the oven. Chop it into bite-size portions and coat the pieces evenly with olive oil, lemon and spices. Let the meat marinate in the refrigerator for at least one hour before cooking. The longer the meat sits, the richer the flavors become. However, avoid marinating any longer than overnight.
While the meat marinates, apply olive oil on both sides of the pita with a pastry brush. If you wish, sprinkle each pita with a bit of basil and/or garlic. Stack them onto a sheet of aluminum foil and cover completely. Set aside.
Oven Cooking
Preheat your oven to 350 degrees Fahrenheit. For quick cleanup later, line a roasting pan with aluminum foil. Spread the meat chunks evenly in the bottom of the roaster. Bake for 20 minutes, then flip the meat to the other side. Cook for another 20 minutes or until the meat reaches a safe minimum cooking temperature when you check it with an internal thermometer. For lamb, beef, chicken and turkey, the internal thermometer should read 165 degrees Fahrenheit, while pork is done at 145 degrees as long as you rest the meat for three minutes before serving.
Put your foil-wrapped pitas in the oven to warm for about 12 minutes before the meat finishes cooking.
Sauce and Service
Once the meat finishes in the oven, you can serve it on a bed of greens dressed with Greek salad dressing, a sprinkling of feta cheese and the pita on the side. Alternatively, use a vinaigrette with the greens, as the flavor profile is very similar. You may also want to offer dipping condiments. In Greece, Tzatziki or garlic sauce often accompany this dish. Tzatziki sauce contains yogurt, cucumber, dill, garlic, salt and pepper. Garlic sauce consists of thin mashed potatoes, garlic, salt, olive oil, lemon juice and vinegar.