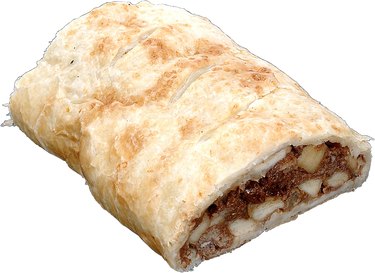 Stromboli is an Italian dish consisting of savory fillings wrapped in dough. You can make stromboli out of any ingredients you wish, including meat, cheese and vegetables. A classic stromboli usually has salami, provolone cheese and roasted red peppers tucked inside a pizza-like dough, similar to a calzone. The beauty of stromboli is that you can make the fillings and the dough ahead of time and bake it just before serving.
Assemble Ahead
If you're going to be short on time during the dinner hour, assemble stromboli the night before. Slice cured meats, chop vegetables and cook and drain sausages. Mix the ingredients with enough tomato sauce to bind the filling together. Roll out the dough into a large rectangle or circle. A one-pound dough can usually stretch into a 10- to 14-inch shape. Lay the meat and vegetable filling down the middle of the dough and sprinkle with shredded mozzarella, Parmesan or provolone cheese on top. Fold the left and right sides of the dough inward to cover the filling; the stromboli should be a long rectangular shape at this point. Press the seams firmly to seal.
Refrigerate
Wrap the prepared stromboli well in plastic wrap or aluminum foil before putting it in the refrigerator. You can also use a large airtight container to protect the stromboli from other odors in the refrigerator. However, don't wait too long to cook your food; bacteria can potentially begin to breed on the unbaked dough and in the filling. Bake the stromboli within a day or two of preparation.
Freeze Unbaked Stromboli
Sometimes, even with good intentions, things come up and you aren't able to get your unbaked stromboli in the oven on schedule. Unbaked pizzas, calzones and stromboli freeze well for about a month. Just let them rise for about 20 minutes before putting them in the freezer. You don't even have to thaw frozen stromboli before baking it. Pop the unwrapped entree in a 450-degree oven for 15 to 20 minutes. The hot oven creates a golden brown shell; if this is too dark for you, thaw the stromboli for two hours in the refrigerator and bake at 350 F for 20 to 25 minutes.
Freeze Baked Stromboli
Another option for make-ahead stromboli is to prepare and bake the filled dough before stashing the meal in the freezer. Allow the food to cool before wrapping it in aluminum foil or plastic. Reheat frozen stromboli directly from the freezer.