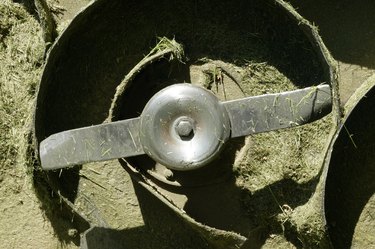 Changing the blades on your lawnmower is never really a fun task. This is especially true for riding lawnmowers such as the John Deere L130 where you have to remove the lower deck assembly before removing the blade. Having the right tools for the job is also essential for getting the job done and if you have the L130 and only standard measurement tools, you won't be able to get your blades off to replace the bolt.
Bolt Size
The bolt size for the L130 mower is a 15 millimeter bolt that requires the use of the corresponding metric wrench. Trying to use a standard measurement wrench will strip out the head of the bolt and could make it impossible to remove the bolt and the blade from the assembly. The length of the blade bolt is actually irrelevant because you will have to buy the bolt as part of a John Deere blade mounting kit. John Deere tractors require the use of genuine John Deere replacement parts.
Blade Replacement
Replacing the blade in the L130 requires that you use the 15 millimeter wrench and a block of wood about 9 inches long to hold the blade in place while you attempt to loosen the bolt. This wood is wedged between the blade and the deck shell to keep the blade from moving. You can also use a 15 millimeter ratchet to get some additional leverage on the bolt to remove it. Turning the bolt in a counter-clockwise direction will loosen the bolt so that you can replace the blade.
Replacement
Once the bolt is loosened from the mounting bracket, you can remove the nuts from the back side of the old blade mounting assembly. These may stay attached to the assembly depending on how long they have been wedged against the assembly. If so, you do not need to remove them. Instead, you can attach the new blade to the mounting bracket and tighten the blades in place by using a torque wrench. Tighten the bolt to 40 pound-feet of torque force. If you have no torque wrench, you can tighten the blade by going to the point of contact between the blade and built in washer. From there, you tighten the bolt another 1/8 of a turn.
Blade Spindle Assembly
In the event that you need to remove more than just the blade, the blade spindle assembly can be purchased directly from John Deere or from another parts dealer. The bolt on the spindle assembly is 6 3/8 inches in length, but is part of the entire assembly that holds the lawn mower mounting bracket in place. Blade spindle assemblies replace part numbers GY20785 and GY20050 for the L100 series mowers.