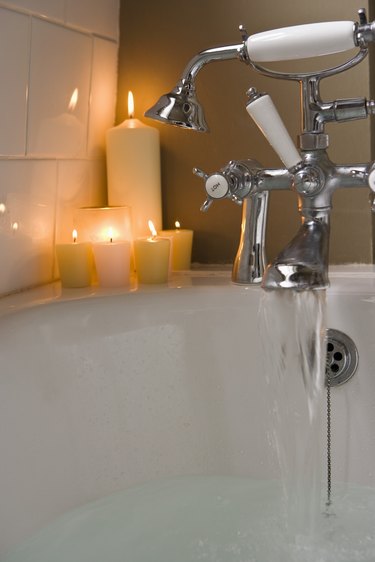 The polished silver look of brushed nickel faucets, tub fixtures and hardware blends well with a wide variety of colors and paint treatments. Satin, matte and semi-gloss finishes all work in a bathroom setting. Focus on decorating with one main color or feature a variety of shades that fit with your bathroom theme.
Accent Wall Ideas
An accent wall stands out in a bathroom that includes brushed nickel fixtures. These walls feature one medium or dark color as the main focal point in the room, while all the other walls remain light. In this case, the shades on the accent wall contrast against the lighter walls. Choose rich shades for the accent wall such as forest green, burgundy, plum or navy blue. Include accessories that blend with the accent wall such as plum-colored towels, soap dishes and tissue holders.
Neutral Colors
Neutral colors blend well in a bathroom featuring brushed nickel. The neutral color palette includes shades such as ivory, white, light brown, dark brown, beige, slate and gray. Beige walls with white crown molding or light brown walls have a soft, yet modern effect in the bathroom. Gray or silver accents such as mirrors with silver frames and soap dishes work in a bathroom with brushed nickel fixtures as long as the walls are painted with another neutral color such as ivory or light brown.
Blues and Greens
Blues and greens make attractive pairings with brushed nickel. You might like a navy or nautical theme with silver and blue as the main colors. Paint the walls dark navy and decorate with silver accessories such as soap dishes and miniature boats that match with the brushed nickel fixtures. White towels with embroidered boats stand out against the dark walls. Other, lighter shades of blue can also blend well. Shades of green such as sage, pastel green and medium green have a soft and modern appeal that works with almost any theme. Pair blue and green together by painting the walls light green and featuring a blue flower border around the top of the walls.
Purples and Whites
The muted silver backdrop of brushed nickel goes especially well with purple. Any shade of purple can work. Adding white crown molding or a few white accessories makes the bathroom look even more polished. You can also paint the walls lavender and then feature small white flowers along the border. Real lavender flowers and silver jewelry boxes and soap dishes create a finishing touch.