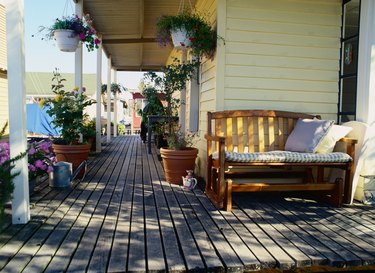 The most important thing to understand about the difference between pressure-treated and composite lumber is their weights. Attempting to install composite lumber planks over a pressure-treated lumber frame could lead to collapse if you don't take the proper precautions first. Before you install your composite deck, learn a little more about composite lumber's characteristics.
Weight
On average, most composite decking material weighs twice as much as standard types of common decking materials, including pressure-treated pine. While this does not prevent you from being able to lay composite decking over an existing pressure-treated frame, it does mean that you will need to make some adjustments to compensate for the added weight. Otherwise, the deck will collapse under the weight of the composite decking.
Age
Over time, any wood structure, even that made from pressure-treated wood, will start to lose its ability to carry large loads. If your deck is more than five years old, avoid replacing the decking with composite materials. Even if you make the effort to reinforce the deck with new joists to compensate for the added weight of the composite decking, the wood may be too old to handle the extra load.
Reinforcing the Deck
If your deck is new enough, you can reinforce a pressure-treated pine frame by adding extra joists. Most decks are built with the joists spaced by about 16 to 24 inches apart. Measure the original joists and use this measurement to cut new ones to the appropriate length. Install the new joists so that there are only 8 to 12 inches between each joist. This will provide enough extra support to handle the composite decking.
Installing the Composite Planks
With the deck frame reinforced, you can install the composite planks with confidence. Lay the planks tightly together and ensure that they are all evenly placed by checking them with a square. Drill two screws side-by-side every 16 to 24 inches along each plank. If you need to abut any planks to make up for length, the screws should be about 4 inches from the butting joint. If necessary, cut notches to fit the boards around existing rail posts. Always use treated screws with decks to prevent oxidization.