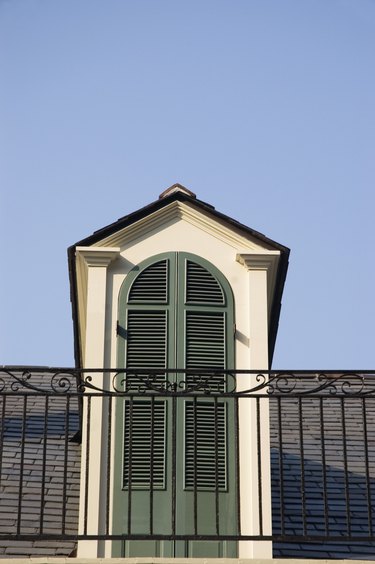 Dormers, structural protrusions that are built into the roof of a home, provide extra space and light, as well as curb appeal. Dormers can be either included in the initial construction of a house or added later during a remodel. There is no standard size for a dormer; instead, you should take into consideration the style of your home and the proportions of the roof and other windows in order to design dormers that are useful and pleasing to the eye.
Sizes
Dormers are custom-built in nearly all cases. When bought as a kit or pre-constructed, the sizes vary depending on the manufacturer. Experts at This Old House recommend that, in general, when deciding on size, you allow the dormer to be a design feature that doesn't overpower your home. The windows should be smaller than the other windows already on your home, and dormers should not occupy more than half the entire width or depth of your roof.
Determining Placement
To safely add dormers, determine where the rafters in your home are located, then use the rafters as a guideline for placement. The side walls of each dormer need to rest on top of the rafters in order to maintain structural integrity. If your home's rafters are widely placed, you may need to install additional rafters to support the weight of the dormer.
Construction Tips
Most dormers are constructed of wood and may then be covered with siding or roofing. Brick wall extensions are not true dormers; instead, these are called parapets. Regular dormers are lightweight, so as not to add additional stress on the rafters of the home. If you are buying kit or pre-made dormers, look for those constructed with a single casing board that extends between the window jambs and the dormer corners, for the most durable and sound structure.
Styles
There are quite a few dormer styles, many of which are designed to match up well with different home types. Gabled dormers traditionally look best with Colonial, Queen Anne or Tudor homes, while the side roofs of hipped dormers complement prairie or shingled homes. Shed dormers, with a pitched and single-planed roof, are best with eclectically designed homes or the simple lines of an Arts and Crafts structure.