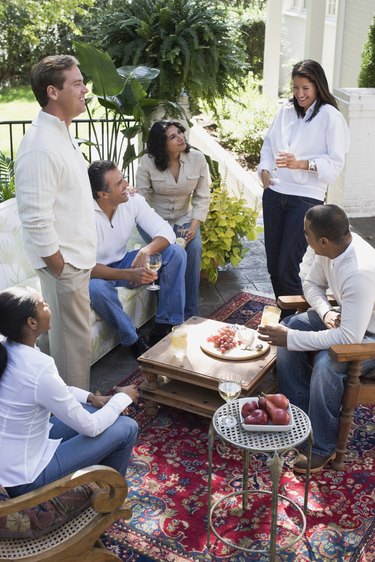 Upgrading an outdoor living space is a practical way to make your home seem larger. A seating area and bar on your patio can be a natural gathering place for guests or a quiet place for the family to relax on weekends. If you're adding a bar to your patio, follow standard bar dimension guidelines to ensure that you create a spacious area that's easy to use.
Food Prep Counter Height
A countertop is a critical element of a patio bar. A food preparation countertop gives you plenty of room to work on snacks to go with cocktails. A countertop can also provide overflow seating for times when you entertain a large group, and the bar counter is full. The industry standard height for a countertop is 36 to 38 inches from the floor. Your countertop must be 38 inches high if you plan to install an under-counter refrigerator.
Bar Service Counter Height
The bar counter is the area where your guests will sit and sip their cocktails -- or "belly up to the bar" for a beer or a glass of wine. The industry standard height for a bar service counter ranges from 42 to 46 inches from the patio floor to the top of the counter. If your design includes outdoor seating at the bar, buy your bar stools before you build the bar, and adjust the height of the bar service counter to fit the height of your bar stools.
Bar Counter Overhang
The right dimension for the overhang on your bar maximizes your guests' comfort. Every bar needs an overhang to accommodate guests' knees as they sit at the bar service counter. The industry standard for a bar service counter overhang is 10 inches You can extend the overhang to give your guests even more knee space, but you might need to add support brackets to hold the weight of the additional overhang space.
Elbow Room
A comfortable outdoor patio bar has plenty of elbow room for guests. If you're only serving drinks, guests can sit shoulder to shoulder, and you can get by with about 18 inches of counter length per guest. You'll need more room if you plan to seat guests at the bar for meals. Standard placemat width is 18 to 20 inches, with an inch or two between mats. Accordingly, plan 20 to 24 inches per counter length for seated dining guests.