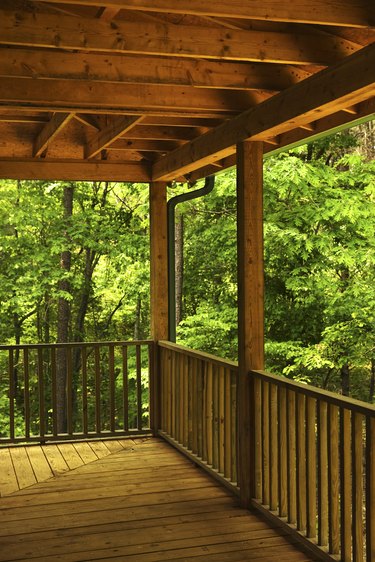 Getting the most out of your deck means keeping the wood in good condition and protecting it from weather. A variety of commercial finishes -- stains, sealers and water-proofers -- can color wood while lengthening its life. As part of the green living trend, homeowners have sought out effective but less toxic solutions to preserving the deck than commercially available. Homemade deck finishes come from historical research and new experiments, from boat enthusiasts and owners of log homes.
Judging Homemade Recipes
The Forest Products Laboratory of the U.S. Forest Service publishes a simple recipe for a wood water-proofer and more complex advice on creating or evaluating a homemade wood-preservative. Noting the 1985 prohibition of highly toxic pentachlorophenol for home use, FPL identifies the necessity to boil or chemically alter linseed oil, a flax product whose natural fatty acids are vulnerable to mildew. Old -- or new -- recipes relying on raw linseed oil, FPL asserts, cannot succeed. Mineral oil, not a natural product and therefore not vulnerable to mildew, forms the basis of the Lab's three ingredient water-proofer for wood: 20 percent spar or poly varnish; 1 to 3 percent paraffin wax; and 70 to 79 percent mineral spirits.
An "Old Down East" Recipe
This homemade varnish evokes the days of sailing ships and may come from the period of varnish-technology Jamestown Distributors describes as a mixture of "black art and science." Mix 1 quart turpentine, 1 quart boiled linseed oil, a half pint pine tar and a half pint Japan drier to make a varnish that will cover approximately 100 square feet.
Natural is Not Always Non-Toxic
James McNamara of "Woodworker's Gazette" reminds readers that avoiding commercial preservatives does not mean avoiding all toxic products. He further notes that homemade alternatives may not save either time or money. His wiping stain solution is, however, easy to make: 1 teaspoon boiled linseed oil; 1 cup alkyd or polyurethane oil-based varnish; and 1 cup turpentine. Tint with 6 to 8 tablespoons powdered pigment which has been moistened with 1 teaspoon of thinner. The recipe yields 2 cups. He hints at one further inconvenience -- the mixture must be stirred often to prevent pigment from separating.
A Log Home Preservative
Log home owners contribute further recipes for wood preservation. From Bearfort Lodge comes a wood preservative with only two ingredients. The mixture is used to cover the surfaces of log homes. Ingredients are propylene glycol -- marine antifreeze; not ethylene glycol -- and disodium octaborate tetrahydrate, a borate-based fungicide sold for log-home use. One cup of fungicide is added to 1 gallon of marine antifreeze. Although sprayed on exterior log-home surfaces, it could be applied to a deck with a brush or roller.
Revisiting the Linseed Dispute
Michael Dutton's recipe has its roots in the traditional log homes of the "Scandic" or Scandinavian countries. For 1 liter of solution: 500 g half-and-half raw linseed oil and gum turpentine; 100 to 300 g pine tar; and 100 to 200 g isopropyl alcohol, shaken together and applied with a brush. Pine tar, he notes, provides the fungicide needed to protect raw linseed oil from mildew; the variable amount will produce a lighter or darker stain. Stain can be brushed on.