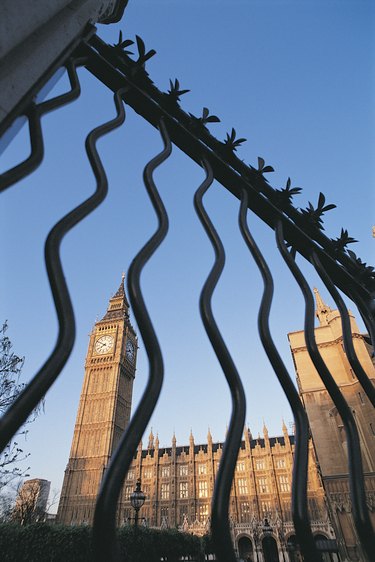 Wrought iron railings can be found on many historic buildings, giving properties a look of solidity and craftsmanship. Wrought iron often is used for contemporary buildings, as well, because of its timeless beauty and longevity. Wrought iron railing construction must follow specific building codes that ensure its strength and safety. Issues such as weight load, height and rail spacing must pass stringent inspection by trained building inspectors.
About Wrought Iron Railings
Wrought iron railings are used for stairways, balconies, decks, fencing and other particular uses. Wrought iron is a term that once was used for iron that was worked by hand, or "wrought," by blacksmith artisans. Today, wrought iron usually is fabricated with steel parts that are manufactured by machine, though the term still is used to mean metals that are worked into intricate designs. Wrought iron designs may be very traditional, with elaborate scroll work, or very simple styling for modern architecture.
Wrought Iron Railing Construction
The building code references most often used for residential construction are the Uniform Building Code and the International Residential Code. These regulations are widely accepted as the universal standard in most communities throughout the United States. The codes determine specific heights and spacings for particular types of material and their uses. Building code requirements for railings are very specific, and noncompliance with these codes can lead to denial of occupancy certificates that are necessary at the completion of construction work.
Wrought Iron Railing Spacing
Universally accepted building code specifications require that a 4-inch sphere cannot pass between the balusters, or rails, of the railing, according to The Iron Shop website. Older codes may allow 4 3/8-inch spheres, but these are not generally accepted unless grandfathered into current inspection codes. Other codes sometimes also apply to wrought iron railing construction, including height requirements, such as no less than 36 inches high. Commercial building codes sometimes require the railing be at least 42 inches high.
Rail Spacing Concerns
The evolution of building codes regarding spacing of wrought iron railing unfortunately came from hard experience, in which many deaths and injuries occurred from small children falling through the rails of balconies, staircases and other structures. Railings prior to 1994 could have bars placed 6 inches apart, which was the building code at the time. Homeowners with railings farther apart than the current 4-inch spacing should retrofit the construction with additional interior rails or scroll work to reduce the openings, according to the National Ornamental and Miscellaneous Metals Association website.