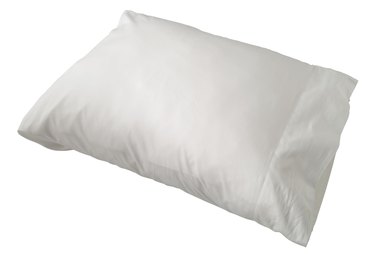 Depending on your budget, your body's needs and your allergies, there are many types of bed pillows available. A microgel pillow is a good option for an all-purpose pillow that's soothing and comfortable but isn't made of down feathers. Consider your individual needs when choosing a microgel pillow and compare it to other pillows to make sure it's right for you.
Comfort
Microgel pillows are soft and comfortable. They're made out of synthetic fibers that are similar to silk. This makes the pillow feel just as luxurious as feather pillows even though the fibers are all synthetic. The pillows retain their shape over time -- as opposed to some pillows that become flat or limp -- which ensures a comfortable night of sleep every night for years to come.
Allergies
Microgel filled pillows are perfect for people with allergies. The pillows are hypoallergenic and they also don't allow for an accumulation of dust mites, which is a frequent cause of irritation for allergy sufferers. The outside of the pillow is made of cotton and the filling is made of synthetic fibers. These materials help provide a sleeping environment that's free from allergens.
Care
The microgel pillows are simple to take care of, which makes them even more appealing. If staining or spills occur, the pillows can be gently spot cleaned with a damp sponge. Take the pillows outside and air them out in the fresh air periodically, and throw them into the washing machine if completely necessary. They can be washed in a delicate, cold cycle and dried with no heat.
Size and Price
Microgel pillows come in three different sizes: standard full size, queen size and king size. The pillows are described as being a medium support, so most people will find the pillows easy to sleep on. Different thread counts are available for the pillows, depending on your budget and needs. The prices for microgel pillows range from around $20 to $70 per pillow, depending on size and thread count, as of November 2011.