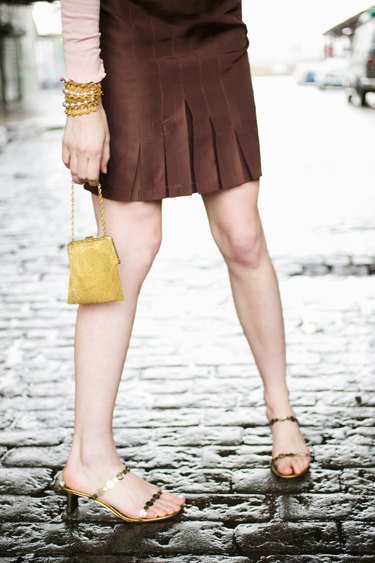 Gathers and pleats are some of the most basic sewing techniques. They are appropriate for a variety of household projects but are most commonly used for clothing. Although both techniques create a bit of decorative flair, they are also quite useful and help add fullness to clothing and other sewing projects.
Appearance
Pleats are commonly used at the bottom of skirts and other garments, but gathers are usually used at the top. In dresses, gathers are often used to adjust the skirt size to the bodice and add a bit of subtle decoration. Gathers have a softer touch than pleats, which are always vertical and very controlled. A skirt that is gathered at the top, for example, will often have a soft, billowy appearance, like the little girl's dress pictured in the Singer company's book, "Sewing Essentials." Pleats, on the other hand, are often used for form-fitting, A-line skirts.
Function
The primary use for pleats and gathers is to add fullness to items. Although gathers are often attached to skirts, they can also be used decoratively on sleeves, yokes and ruffles. Both techniques provide a simple way to attach a longer piece of fabric to a shorter piece. For example, a dress skirt must be wide at the bottom but small at the waist. Both techniques allow you to make the top of the fabric smaller while maintaining width at the bottom of the skirt.
Technique
Sewing gathers is very simple. The most common method is to stitch two parallel lines along the top of the fabric, or whatever area needs to be gathered. The lines are left open on the ends with no back stitching. The bottom stitches are simply pulled to gather the fabric, and then the gathers are sewn in place. Pleating is a bit more involved. After marking and pressing the pleat lines in the seam allowance, the pleats are secured with topstitching or edgestitching.
Tips
Like other sewing techniques, gathering and pleating are easier with practice. When you gather material, be sure to pin the gathers in place before you secure them with stitching. This ensures that the gathers are evenly distributed. As noted by Simplicity, pressing is the most important factor for pleats. For a soft pleat, cover the fabric with a press cloth, and then apply steam to the fabric after you have created the pleats. For rigid pleats, use steam and the pressure of the iron to hold the pleats in place.